The Hearts of Grace Luncheon is your opportunity to support and share the good news about the transforming work that happens in the lives of at-risk women and children in our community with your friends, neighbors, co-workers and small groups.
Reception & Raffle (11:00 a.m.-12:30 p.m.)
Luncheon (12:30-2:00 p.m.)
Relish

your lunch in a beautiful venue with old and new acquaintances

Be inspired

by Lisa Beamer, widow of 9/11 hero Todd Beamer, whose words "Let's Roll" become famous when hijackers overtook UN Flight 93 in rural Pennsylvania

Support

life transforming programs in the lives of at-risk women and families in our community.

Engage

in Books for Birthdays, Hearts of Grace children's ministry initiative
Enjoy lunch with friends, live music, an impressive raffle and an inspiring message while making life change possible!
Help us expand our Hearts of Grace network by inviting friends to join you for this important event! Contact Mindy Inman, event manager, at 630.682.1910 or minman@outreachcommin.org to reserve your table today.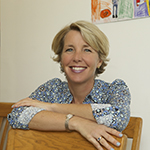 Meet Lisa
Lisa Beamer, Wheaton College graduate, resides in New Jersey where she works in a low-income community to promote stable housing for individuals and families in need.  Lisa is a mother of three and is the widow of Todd Beamer, a  victim of the September 11 terrorist attacks on the United States.