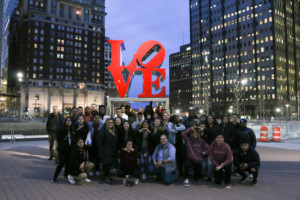 High school students from Outreach Community Center in Carol Stream (OCC) and Puente del Pueblo (PdP) in West Chicago spent their spring break visiting colleges on the annual college tour, as part of the College Opportunity Program. This year 32 students attended the college tour, 16 from OCC and 16 from PdP —making it the largest tour to date.
Students and staff visited St. Peter's University and Rutger's University in New Jersey, the University of Pennsylvania (U Penn) and Messiah College in Pennsylvania, and the University of Toldeo in Ohio. The group also enjoyed outings such as dinners at local restaurants, exploring LOVE Park in Philadelphia and visiting the 9/11 memorial in New York.
"Our students took full advantage of the opportunities the college tour afforded them," said Matthew McNeil, director of Puente del Pueblo. "I saw this occurring in two areas. First, in planning for their academic future as they carefully processed with me what college might actually look like for them personally and how the exposure experience fostered reflection, generated questions and motivated them towards increased effort. Also, I saw students capitalizing upon the insight traveling to a new place renders; for example, they took full advantage of the 9/11 memorial to feel the gravitas of their nation's great tragedy, even though they did not experience it personally in 2001. I felt proud of all of them; their resolve merits our full support."
For Gigi Nyesoah, OCC high school and college program director, this year marked her 10th annual college tour. "My favorite moment is when we were coming out of the tunnel between New Jersey and New York; one of the students put on the song New York by Alicia Keys, and there was a 'Welcome to New York' sign, and all of us cheered," said Gigi.
According to OCC staff, the majority of the students loved the University of Toledo. "So many students bought gear from there that when we returned, another staff member asked if the school was giving out T-shirts. Nope, they just loved it that much," remarked Gigi. "Two students who had been with us on tour in the past met us at the University of Toledo and told us how much they loved the school. It was neat for the kids to hear from students who had been in their shoes and to see them being successful."
The students visited a variety of schools, allowing the group to experience different personalities and cultures represented at each campus. "One of the schools we went to was 29% African-American, 29% Caucasian and 29% Hispanic. Really great that exists and they got to see that kind of diversity," said Gigi. "At Messiah College, they happened to have Easter dinner the evening we visited. One of our students said, 'this is so beautiful, I could cry.'  Another student said, 'you are making this so hard for me' because he liked so many of the schools we visited."
The College Opportunity Program (COP) removes the barriers that prevent promising young students who come from struggling family or financial circumstances from seeking higher education. COP is a holistic college assistance program consisting of two components: college preparation for high school students (Student Achievement Leadership Program) and college scholarships and support.