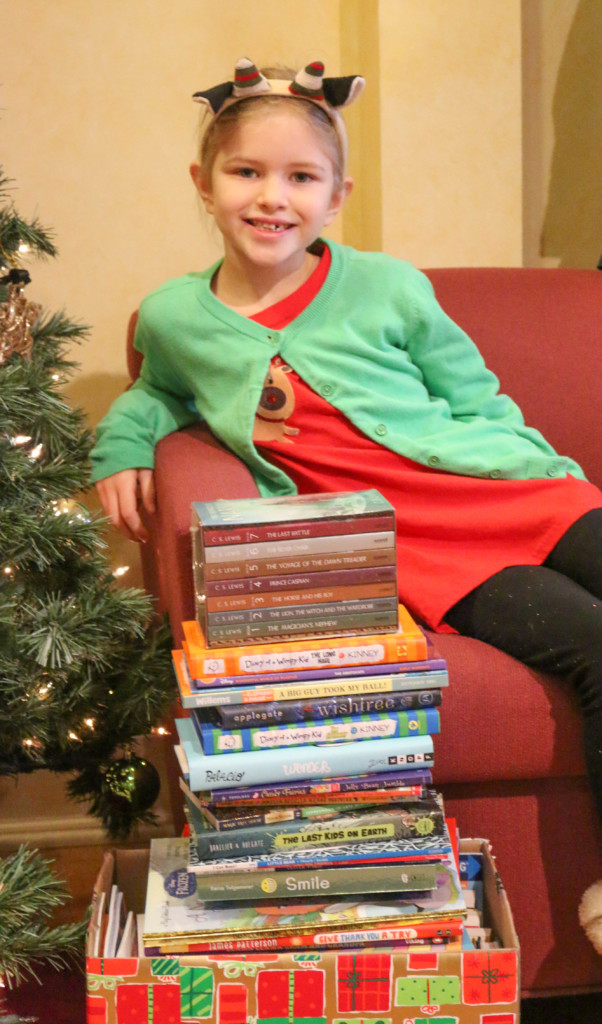 Seven-year-old Gray Taylor is spreading Christmas cheer this holiday season, as she donates 59 books to the Books for Birthdays ministry. Books for Birthdays is a ministry project created by Hearts of Grace, the women's network of Outreach Community Ministries. Gray's mother, Rebecca Taylor, first learned about the ministry at the Hearts of Grace Women's Luncheon held in October.
Rebecca was drawn to the Books for Birthdays concept and wanted to contribute to the ministry. In fact, the Taylor family was looking to get more involved in the local community. "Now that we're living in this area, we're trying to be more intentional," said Rebecca.
Gray hosted a dog-themed birthday party for her friends on Saturday, December 16, her seventh birthday. The party invitation stated that in lieu of birthday presents, Gray requests that her friends donate a book to the Books for Birthdays ministry. When guests arrived, they were encouraged to drop off their donated books in a Christmas-themed box labeled with a small sign that read, "Gray's birthday book donations." The idea was a hit with Gray's friends; 21 children attended the party and 59 books were collected. "Some brought one or two [books] and some brought around 15," said Rebecca.
"We're extremely grateful for the sacrifice Gray made to provide these books to children we serve at the Outreach Community Center in Carol Stream," said Sue Herrmann, co-president of the Hearts of Grace Action Board. "What an amazing 7-year-old! Because of Gray, so many children will be blessed on their birthdays this year."
To donate books to Books for Birthdays, visit our Amazon shopping list here.