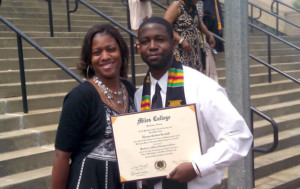 When LaTanya Gatewood attended Thomas Crockett's college graduation from Miles College in May 2012, she could hardly contain her excitement. "I felt like a proud parent," she says. As Thomas's mentor through the College Opportunity Program at the Outreach Community Center in Carol Stream (OCC), she knows exactly how hard Thomas worked to get that degree.
"I was so proud for many reasons, but one of the most important reasons is he's an educated male," she says. "It's a treasure that can never be taken away or diminished. This was such a great accomplishment for Thomas and I believe it's the first of many great things for him."
Overcoming Trials
As they say, the trials make the successes sweeter. "Thomas has had many bumps along his college journey," says LaTanya. "He started going to school in North Carolina and came home to COD for a year, where he was a full time student and worked full time." His desire for continuing his education outside of Illinois continued, so Quentin Mumphrey, the College Opportunity Program Coordinator at the time, encouraged Thomas to go to Miles College.
"Despite many of the challenges that faced Thomas throughout his college years, he persevered," LaTanya beams.
The COP Difference
Thomas says LaTanya is a big reason he finished strong. "LaTanya mentored me and helped me graduate," he says. "When I got homesick, she reminded me how worthwhile it was to stay."
Thomas, a communications major, is now working full-time at MagnetStreet, a local printing company and a corporate partner of Outreach. He thanks LaTanya and the College Opportunity Program. "Without COP, I wouldn't have had the opportunity to go to college—and to be the first person in my family to earn a college degree," says Thomas. "I am thankful for the college preparation, the mentorship, and the scholarship that made it possible."
LaTanya says it's been a great pleasure mentoring Thomas through his college experience. "His warm heart, infectious smile, and great demeanor have made it easy to work with him," she says.
"My prayer for Thomas for the future is similar to what I would pray for my own son," she adds. "I pray that he would see what God sees in him, that he would be a productive citizen, and that he will accomplish all that he sets out to do.
"Finally, I pray that he would continue the legacy of helping to restore hope and opportunity in others, just as hope and opportunity was given to him."