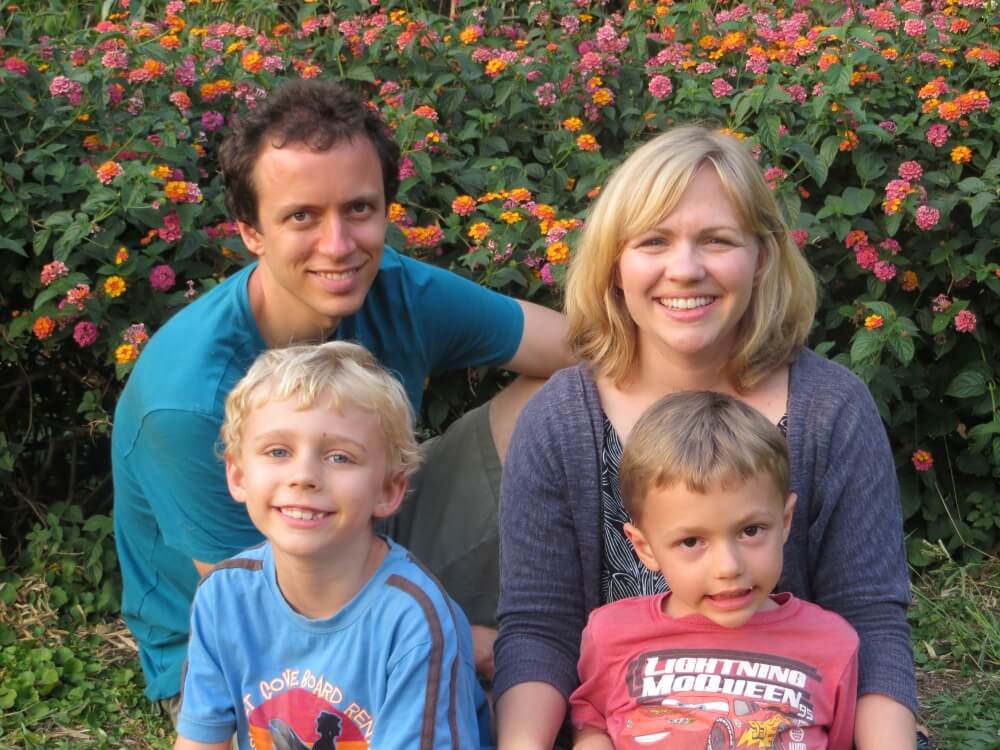 Stuart and Robyn Hackett and their two sons recently returned to the U.S. after spending five years in Cameroon, a country in West Africa. Little did they know, those five years overseas would perfectly prepare them for an unexpected new position: becoming house parents at Jubilee Village.
Through Wycliffe Bible Translators, Robyn and Stuart worked respectively as a linguist and exegetical advisor, helping one of the people groups in northwest Cameroon translate the New Testament into their native language. Now Robyn and Stuart are taking on a new ministry project, serving as volunteer house parents at Jubilee Village. "It was a really good time in our life to do something like this," Robyn said.
The move back to the United States after spending years in Africa wasn't the easiest transition. The couple faced the challenge of readapting to the United States' individualistic culture after living in a Cameroonian community, and they had concerns as to whether some of the initiatives they had advocated for during their time in Cameroon would prove to be sustainable after they left.
However, when an Outreach employee who attends the Hacketts' church told them about the house parent opening at Jubilee Village, the couple felt that they had found a unique and compelling opportunity. "When we were first given the position description, we were kind of surprised to look back at our time overseas and see a fairly high degree of continuity between what we were doing over there and what we might be doing here," Stuart said.
Though their work in Cameroon was focused on Bible translation, Stuart and Robyn to put time and effort into advocating for the large population of single mothers in Cameroon and sponsoring initiatives to spur their development. "Though we didn't anticipate having a ministry to single moms over there, we did," Stuart said. "And we saw a lot of values and policies in place here, at Outreach and Jubilee Village, that seemed to be in line with the passions and concerns that we had coming back from our overseas ministry."
For both Stuart and Robyn, beginning as house parents at Jubilee Village felt like a near-seamless transition. "We interfaced a lot with single moms in Cameroon, and we experienced a lot of the benefits and drawbacks of communal living. We didn't feel overwhelmed at the prospect of doing that here. When we were presented with this opportunity to live in a community again, we felt pretty excited about it," Robyn said.
Though faced with challenges in this new position, Stuart and Robyn's excitement has continued as they begin to gain a greater understanding of what their role entails. "One main role is to watch over the girls and make sure that they're completing various parts of the program. So there's that aspect of being the authority on the floor. But then there's the more nurturing part of it. We want to help them develop—and just be someone that they can turn to. They just need help—practical help—and encouragement," Robyn said.
With this in mind—and with the experience they're obtaining each day—Robyn and Stuart are coming to a deeper understanding of why Jubilee Village is such an important place for these young women. "The women who live here have been thrust into needing to be independent pretty quickly. If they didn't have any boundaries or guidelines—or anyone to help them deal with the hardships that they were going through, or to help them process consequences—they might just give up," Robyn said. "Jubilee Village is not just a place to live. It's an environment where women can learn how to make good life choices, and they need people to help them do that."
One of the biggest ways that Stuart and Robyn feel they can help the residents is through the example of their own family life. "There are lots of opportunities to model healthy relationships, effective conflict resolution, communication and good parenting," Stuart said.
Robyn, who struggled with a difficult home life growing up, understands firsthand the importance of modeling healthy family dynamics and relationships. "Things can be theoretically possible in our minds, but we've never seen them happen in real life. We really think the girls need to be exposed to what's possible," Robyn said.
As they always have, Stuart and Robyn incorporate their Christian faith into their family life. "We have this opportunity to live out—not just as a family, not only in front of our children—the truth of the Gospel," Stuart said. "We're just hoping that, in a non-overwhelming way, we can help people see what a big part of our functioning the Lord is, and his love, and his being with us in everything," Robyn adds.
While they hope they are role models of God's love to each young woman at Jubilee Village, Stuart and Robyn also feel that this opportunity will help them grow in their own faith. "It's a true opportunity to show grace, patience and compassion," Stuart said. "We've been mindful of the need for the Gospel to be at the heart of our family and the center of what we're doing as we try to reach out to the young ladies. Because if it's not, we're either going to burn out really quickly or we're going to find ourselves consumed with cynicism or judgment."
Though Stuart and Robyn have been embracing this role with loving hearts and open minds, being house parents, especially new house parents, doesn't come without difficulties. For this couple, the biggest challenge so far has been earning trust and building connections with the young women who may not yet be comfortable with the newcomers' presence in the building. Stepping in as new authority figures in girls' lives is not easy, but Stuart and Robyn are facing this challenge with a positive attitude.
"You'd love to be able to just step into their lives and have a really great connection immediately, but we don't mind if it takes quite a while to establish that," Stuart said.
Despite that difficulty, Stuart and Robyn are filled with warmth when they think about their time so far at Jubilee Village. They love the community that is formed within the building. "When kids are tired and cranky, we can all empathize with each other. There's just a lot of comradery that way. You don't feel as alone in the struggles of life when you're all living here together," Robyn said.
They also feel welcomed and mentored by the other house parents at Jubilee Village. Even in their short time there, Stuart and Robyn have felt the care that exists among the house parents in the building. As they work together, as a team, they allow their various strengths to shine. "There's very much an attitude and a willingness to help when you feel equipped to do something," Stuart said. "It's been pretty fun to see how our various strengths complement each other."
As they move forward in their experience as house parents, their ministry with single mothers, and their journey as a family, Stuart and Robyn feel blessed to be in such a caring place as Jubilee Village. "We're all supporting each other and it's just really wonderful to live in this kind of community," Robyn said.