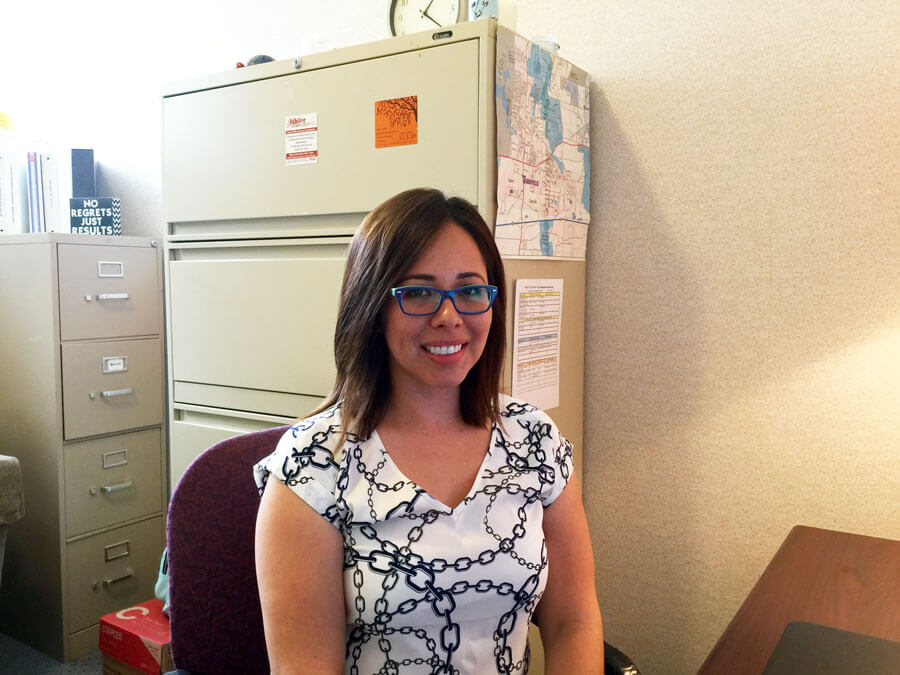 Sit down to get to know Areli Santiago, the bilingual case manager at Warrenville Youth & Family Services (WYFS), and you'll notice one word in particular that keeps popping up: "excited."
It's a bit surprising, considering the heavy workload our case managers carry—not just in terms of busyness, but also in terms of emotional weight. Typically, folks only get to know a case manager when they're experiencing a personal crisis.
"We serve clients that are in vulnerable situations, most of them are in crisis," says Areli. "Crisis being a death in the family, they have separated from their spouse, they don't have sufficient income to make ends meet or another situation along those lines. We see a mix of folks who live in Warrenville—from different backgrounds—but what they have in common is that they've reached a moment where they're struggling and they need some extra help to stay afloat."
Areli began work at WYFS in September 2015, first as a receptionist before moving into the case manager role in February 2016. "The faith-based approach was really important to me, it's why I was drawn to WYFS," Areli says. "I always wanted to be a social worker. It's that feeling of going home at the end of the day and just knowing that you did something, you contributed in some way."
Areli didn't start out in social work, however. She graduated from Columbia College in Chicago with a Bachelor of Arts in broadcast journalism. After working in radio production, Areli took a job at a bank. But the urge to do case management never left her, so two years ago she enrolled in the social work graduate program at Aurora University.
Now, Areli is working 25 hours a week at WYFS, helping clients on Tuesdays, Wednesdays and Thursdays. In addition, she's interning at the Department of Child and Family Services this year, an experience she calls "very challenging and fast-paced." On top of all that, she's continuing in her classes.
Despite that pressure, she says "I'm just really excited for everything that we're doing. I have a lot of ideas on how we can do more to serve Warrenville." Those ideas include reinvigorating the Hispanic Council in Warrenville. "Right now, we're collecting data, starting with surveys of our case management clients and parents of the Quest students. We're asking about their needs, what would they want to see change in their community. It's still in the very early stage."
She's also working on deepening WYFS's partnership with local churches, particularly those involved in the Warrenville Persons in Ministry (WPIM). WPIM churches contribute to the Local Emergency Assistance Fund (LEAF), which Areli administers to her clients along with additional funds from The Salvation Army and Illinois Department of Human Services.
"Warrenville is a very tight community. Very friendly, everybody knows each other. When it's time to come together, it's amazing to see how everybody pulls through."
And Areli has seen first-hand several of her clients pull through some very difficult challenges.
She shares the story of Tara*, a long-time resident of Warrenville and a long-time WYFS client. A single mom to a teenage son who is legally blind and the caretaker for her granddaughter, Tara has a variety of needs on any normal day. But the day she reached out to Areli for support wasn't any normal day. Her son's girlfriend had been the victim of a drive-by shooting while visiting friends in Chicago. Tara had stepped in to provide financial and emotional assistance to the girlfriend's family—but then ran out of funds herself and could no longer afford her rent.
Tara came to Areli in a lot of stress. Calmly, methodically, Areli made a plan. She was able to find a case worker in Chicago to assist the girlfriend's family. Then, she helped Tara find a new apartment. Areli referred Tara to the WYFS counseling program to help her manage her anxiety. And she also helped her secure clothes, school supplies and food vouchers for her granddaughter. "Every time she's here, she's so happy we can help her," says Areli. "She's often mentioning that WYFS is where she feels safe, where people are actually listening, where people care. We're always here, doors are always open for her. So I thought it was very beautiful the way everything worked out."
Things also worked out with Christine*, another long-time resident of Warrenville who lost her apartment and was living in her car for about six months. Areli says the road to get Christine into permanent housing wasn't easy—there were complications with her security deposit—but in the end, Areli was able to find her a new home. "She came not too long ago and brought me flowers. She was very grateful, saying out of all places, out of all people, she can't even count on her friends but she can always count on us here. So, it made me feel good." Telling Christine's story, Areli began to tear up. "Having that impact on people, it's just so wonderful. I really, really enjoy working with her and all the clients."
And that's something to get excited about.
*Name changed