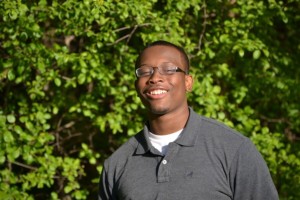 During my freshman year of high school, life suddenly changed. My dad lost his job and, before long, we had no option except to move out of our nice home into a smaller house, and then eventually into an even smaller apartment. I had a lot of anger, sadness and depression during this time. Life as I had known it was never going to be the same.
By sophomore year, life at home had grown more difficult. Circumstances meant I now had to step up and get a job, even though it meant I would have to quit track. I felt so overwhelmed.
It was during my junior year that I made a pivotal decision: I would not let my present circumstances keep me down. Instead, I chose to lean into my faith, with the encouragement of staff at Outreach Community Center in Carol Stream (OCC). The Bible tells us that "God doesn't give us challenges that we can't handle." This verse helped me to mentally get through this tough time and become the man that my mom wanted me to be and, better yet, the man I wanted to be. My mom was so proud of me for how I handled myself, and how hard I worked to keep the home stable. This was one of the most challenging things in my life, and I can proudly say that I overcame it. Without God, I would not be here today. This is why I work hard and am very dedicated.
Even though I struggled with challenges at home there were also things that I struggled with at school. I have a learning disability and cannot understand certain things as fast as other students. At first, this made me upset because I felt like I was not smart. It made me believe that I may never be able to attend college. But with the help of Outreach, I came to understand that my learning disability was not going to stop me from pursuing my dreams. Instead, it motivated me to do well in school and focus on my strengths, including math and problem solving.
OCC's Student Achievement Leadership Team (SALT) helped me succeed in school and as a person. This after-school program for high school students taught me leadership skills and prepared me for college. Every year, SALT takes students on a college tour. I was chosen to be a leader on the college tour committee, helping pick out the colleges we would tour, encouraging students to go and helping choose community fundraisers for the tour. As the leader, I had to make sure everyone had a voice.
Being a leader helped me realize that I can have a positive effect on people's lives. There were people who went on the tour because I encouraged them to go. The younger students wanted to be on the committee or in my hotel room on the tour. I would tell them things like, "You need to get your grades right and act right." They started looking up to me and calling me "Uncle Brenen." They would tell the teachers, "Don't tell Uncle Brenen because he'll be disappointed in me."
This year I was able to pass the leadership of the committee down to a junior who really looked up to me last year. I have been trying to help him take over the committee so that it continues to grow stronger when I am gone.
Right now, I have three goals in my life: to graduate from college, to get a business degree and to have a stable job when I finish college. College is not only a major milestone for me, but especially for my family. When I walk onto the Indiana State University campus this fall, I will be the first in my family to attend college.