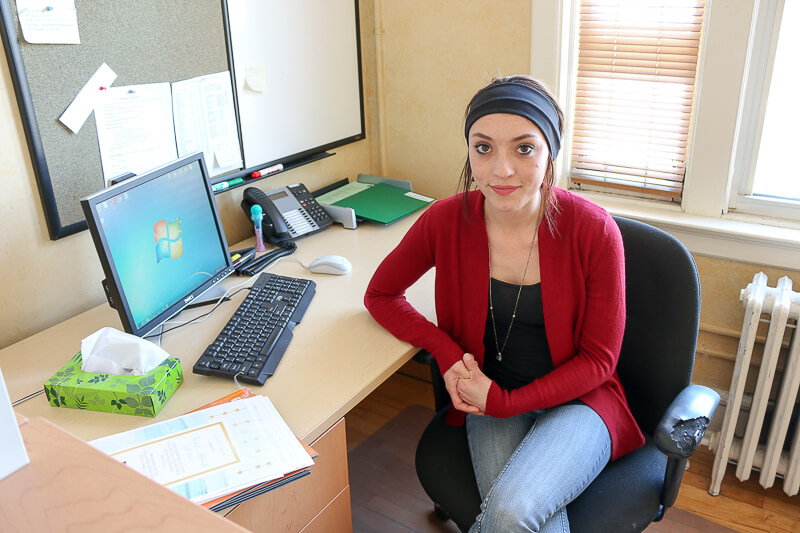 Alex Hoerr, job coach/case manager, spends a lot of her time and energy helping Employment Opportunity Center (EOC) participants set goals and strive to reach them. She encourages students when work gets difficult. But for one young woman named Bridget, Alex has only had to open doors of opportunity.
"I've never seen anyone as self-motivated as her," Alex says. "She sets goals before I ask her to and follows through by herself. She does it quickly and does a quality job. She is truly hard working to her core."
Bridget's work ethic comes, in part, from a life situation that forced her to support herself at an early age. When she was 16, her mom, who suffered from a mental disability, left her and moved out of state, largely for financial reasons. After couch surfing and living out of her car through high school, she was referred to Wheaton Youth Outreach's Transitions Program, which provides housing and comprehensive services for homeless young women.
With the stability of a roof over her head and a caring support system, Bridget could now fully embrace opportunities to reach her potential. She was introduced to the Employment Opportunity Center (EOC), where she quickly seized the chance to gain experience and grow her skills. "My first job was as a sales associate for Jubilee Furniture, which included helping customers and cleaning up the store," says Bridget. "Over time, we came up with an idea to refinish furniture, so some coworkers and I would paint and fix some of the older items."
Bridget also worked in the Outreach administrative offices with the director of volunteer services, doing clerical work and gaining experience in an office environment. Now she works as an intern for the HR department at KeHE Distributors. "I have been helping in the mailroom and working on HR projects, and I will be starting a few communication projects," says Bridget. "I currently work full time and still work on Saturdays at Jubilee Furniture, thanks to EOC!"
All of her supervisors have sung her praises. "Her Jubilee Furniture supervisors noted that she was quick and efficient," says Alex. "Her KeHE boss says she's gone above and beyond what's required of her." Bridget has taken advantage of every resource Outreach has offered her—in addition to the Transitions and EOC programs, she's attended counseling sessions. "Some people do the bare minimum, but she's using every resource and opportunity available to its fullest," says Alex.
Due to her successes, Bridget was asked to share her story as an advocate for homeless youth. She accompanied Outreach CEO Chris Ellerman and Wheaton Youth Outreach Director Gail Hoffman for a meeting with Michael Zolnierowicz, the Illinois governor's chief of staff, to discuss the importance of the homeless youth program, which is suffering from a state budget impasse.
"I am very grateful for the homeless youth program grant provided to Outreach by the state," she told the chief of staff. "If not for it, I am sure I would still be homeless on the street. Please find a way to restore funding for these programs as soon as possible to prevent young people in my situation from returning to homelessness."
Bridget, who plans to go back to school to earn a bachelor's degree in business or communications, thanks Outreach for the chance to forge a career path—and for so much more. "Wheaton Youth Outreach and the Employment Opportunity Center gave me a second chance to take charge of my own life," she says. "I now have a small 'family' that makes me feel very supported. I paid off $4,700 worth of debt and accomplished many personal goals. I gained job experience and the chance to work for some great employers like KeHE. Outreach gave me a sense of direction, unconditional support and hope for the future. Thank you!"
Alex says, "Being in Outreach's programs has given her space and opportunities to actualize her potential. Because of her work ethic, leadership and intelligence, she'll be successful no matter what."
She adds, "We'll all be working for Bridget one day."