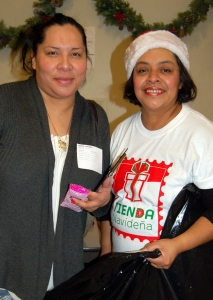 Puente del Pueblo held its fifth annual Christmas Store on Saturday, December 13. Modeled after the Christmas Store at OCC, the event serves under-resourced families from the community by allowing them to shop for gifts at deeply discounted prices.
The store makes a difference in the lives of shoppers and volunteers alike. Matthew McNiel, Director of Puente del Pueblo, shares Gabi's* story. "Gabi arrived at her appointment with five children to shop for and only $30," he says. "She was anxious and worried, concerned that her money could not possibly stretch enough." As she shopped, she asked about the price of each item, carefully calculating the prices in her head. When she had chosen something for everyone, she was amazed that her total was $27.50—just what she had with a little change left over. "She teared up and expressed how shocked and relieved she was to be able to buy gifts for all five of her kids," says Matthew.
Gabi's shopper's helper, Alejandro, volunteered with his family for the second year in a row. The experience of walking through the morning with Gabi moved him. "It changed my perspective on the Christmas Store," he says. "I see how much value it provides for the community. And to serve alongside my teenage daughter—this is the best value I can give to her." Alejandro was also inspired to take even greater action next year; he wants to encourage church members to plan ahead and save money each month so quality gifts can be purchased and donated to the store.
Alejandro was one of 156 individuals who volunteered for the event, and the store served 182 families and 480 children. All proceeds will underwrite the Adult Literacy programming at Puente del Pueblo. Thanks to Iglesia del Pueblo, Wheaton Bible Church and all who made this day possible!
*Name changed