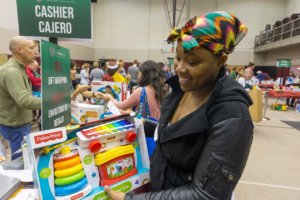 The Christmas Store is about much more than the gifts children receive. It's about restoring hope and providing opportunities for families to become all that God intends them to be. The gifts you donate through your gift drive will likely be the only gifts the families are able to give their children this year. Gift options include:
Coats, pajamas and clothing, helping children and youth stay warm through the winter months
Educational tools, to help children and youth succeed in school
Sports equipment, to help children and youth stay active and healthy
Toys that promote cognitive, physical, social and emotional well-being of children and youth.
Thanks to your generosity, when children return to school after the Christmas break, they will be able to share with their peers positive stories about their Christmas and they will benefit from these gifts for months and years to come.  To register your gift drive, please complete the form below.
Shop for Gifts
Gift Drive Fact Sheet, Checklist & Wish Lists
Use the fact sheet for talking points as you share the message about The Christmas Store. The checklist will help you plan and organize your gift drive. Then, share the wish lists with your team! For more resources, visit our online media kit.
Click to download – 2020 Gift List
Register for a Gift Drive