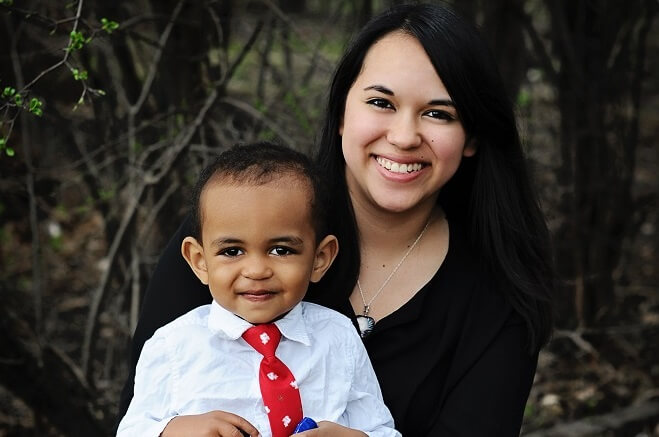 It's a major accomplishment to graduate from Jubilee Village, Outreach's transitional and independent living program for single, formerly homeless young mothers. But one young woman has not only graduated, she's already made great strides in her quest for independence and stability—overcoming many obstacles along the way.
Growing up, Corina moved around a lot due to her dad's jobs, spending time in California, the Philippines, Colorado, Oklahoma and eventually Illinois. "My mom passed away when I was twelve or thirteen from cancer, but I never really knew her because my dad divorced her back in the Philippines."
As the oldest, Corina became the mother figure to her younger sister and two half-brothers. When she was still a teenager, Corina had her son Gabriel. Soon, life at home became unbearable.
"I was a single teen mom trying to work and go to school. When my dad moved back to California for a job opportunity, he made me responsible for the house, as well as providing the care for my five- and seven-year-old brothers and my sister who struggles with depression and drug abuse. Because of the stress, I knew that I needed to leave, but I didn't know where to turn."
Jubilee Village
A neighbor reached out to Corina and encouraged her to call Jubilee Village. She was accepted into the program in August 2013. "When I came here, I was overwhelmed with everything that was going on in my life. I just needed space to think about my life and make choices that were better for me and for my son."
When Corina came to Jubilee Village, she was working for minimum wage at a local retailer and felt she was trapped in low-paying jobs. Her case manager, Valerie, quickly realized Corina could excel in a more challenging job that would provide a better life for her and her son. When Valerie learned that there was an opening for a position at KeHE Distributors, LLC, she encouraged Corina to submit her résumé. "I got an interview within a week and they hired me the very next week," Corina says with pride.
KeHE
Corina has thrived in her role as procurement coordinator at KeHE, in which she works with buyers on their purchase orders. While her new job was an answer to prayer, Corina initially worried about what her new co-workers would think of her. "A lot of these people are middle-class and married, while I'm a young, single mother. But everyone there has been really accepting of me. I love this company and I love the people who work here."
Theresa Atkins, one of Corina's colleagues, feels a special connection to Corina. "I understand being a single mom, a teen mom, from a personal perspective. I want to be there for her and to support her."
One of the ways Theresa and her coworkers have shown their support is through the KeHE Cares program. This unique program allows employees to spend company time and dollars to care for those with little or no resources. A team from KeHE Cares initially toured Jubilee Village and was inspired by the way Jubilee cares for its residents holistically, with the goal of independent living. They asked the Jubilee Village staff if there were any service projects they could help tackle, and within a few short weeks the marketing department was hard at work painting one of the apartments and covering the cost of new flooring.
"We definitely believe in giving back with dignity," says Theresa. "We're here to come alongside and support any way we can."
The Future
Corina is also thinking in the long-term now. She plans to go back to school part-time to complete her bachelor's degree in business. "I'm hoping to stay at KeHE and move up, to make my career here."
"It's amazing—I never would have imagined that I could be in the place where I am right now," she continues."I was in the mindset that I would be in school forever, and that I was going to have to work a minimum wage job forever. And then, all of a sudden, I came to Jubilee Village; I have a new job, I've learned how to set boundaries, and I'm a lot happier! I've been able to make choices that are better for Gabe and me."
Congratulations to Corina on her graduation from Jubilee Village and her success at KeHE Distributors!