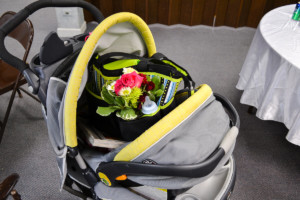 Thank you to First Presbyterian Church of Glen Ellyn for their ministry to Jubilee Village, Outreach's transitional housing for single, formerly homeless young mothers! Several different church groups from First Presbyterian have recently supported Jubilee Village in myriad ways.
Michelle DeMuir, Director of Jubilee Village, is thankful for the groups that have given of their time and resources:
The church's Elizabeth Circle, with Bette Varvaro at the helm, has been an on-going supplier of gas cards for our young moms for years. "That enables very hard-working young women to be able to get to work and school, which has been a tremendous blessing!" says Michelle.
Westminster Preschool/First Presbyterian sponsored a baby items drive that brought in a huge van full of items such as books, baby wipes, baby toiletries, sippy cups and kitchen items.
A men's group from the church that included Charles Varvaro, Bob Duncan and five others recently patched and painted a one-bedroom apartment. "They are all experienced painters, and the job they did was completely professional!" raves Michelle.
"We very grateful for the selfless giving of time and resources from so many at First Presbyterian of Glen Ellyn," she adds. "Their ministry to us is a blessing to the young single mothers who live here and an encouragement to our staff!"