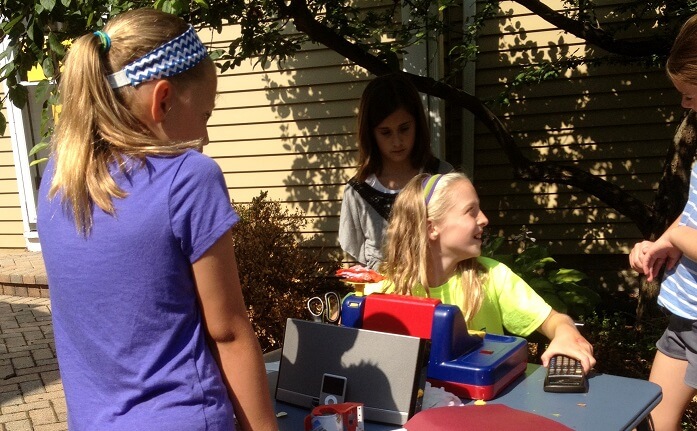 Sometimes, all it takes is a group of fourth- and fifth-grade girls to make a difference.
Local moms Jill Tweeten and Shauna Smith know this firsthand. They've been co-leading a Bible study for 15 grade school-aged girls for a year, and they recently challenged them to reach outside their group to serve others. Shauna suggested holding a garage sale and donating the profits to a local community service organization.
Jill, who's been connected to Outreach through College Church of Wheaton and Hearts of Grace events, immediately thought of Outreach Community Center in Carol Stream. "I wanted them to serve the community in a hands-on, practical way," she says. "OCC is the perfect match because this is what the Center does."
The group, which includes girls from College Church, Gary United Methodist, Glen Ellyn Bible, St. Michael Catholic Church, Blanchard Road Alliance, Jubilee Chapel in Itasca, Faith Covenant and Church of the Resurrection, has studied "The Amazing Bible Adventure for Kids" by Josh McDowell and is currently reading "Christian Character Qualities Family Nights Tool Chest" by Heritage Builders. "It's teaching us about learning to be content, controlling our thoughts, and how God wants us to respond to our worries," Jill says.
The girls learned more about contentment by serving at the garage sale. All the girls pitched in to help raise money for OCC, and whatever didn't sell was donated to Twice Is Nice Resale Store. The girls and leaders commented on their experience:
"I learned that we should be thankful because not everyone is as fortunate as we are."
"We should give to people who need more than us."
"It was fun working together with my friends to help people in need."
"I learned that we could minister to people through the garage sale itself and not just in raising the money. For instance, we deeply discounted some dresses for refugee parents who were shopping the sale. It was great fun to see the delight on their faces when they learned they could afford really nice dresses for their girls."
Following the garage sale, the group was able to tour OCC and the Interfaith Food Pantry (housed in the OCC building). Many of the girls were amazed at how many children and families OCC serves, and were excited that the money they raised would help so many kids their age.