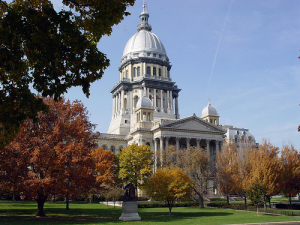 41 homeless young women, ages 17-24, were served in FY2014-2015 in the transitional housing program at Wheaton Youth Outreach. Haley, who shares her story below, is an 18-year-old who not only lives in the Transitions Program's foster care facility, but also joined Outreach's Employment Opportunity Center, an employment training program for young adults 17-22 years old.
Currently, Illinois legislators are debating proposed budget cuts to vital funds that support transitional housing programs, including the DHS Homeless Youth fund. On March 19, 2015, Haley was invited to Springfield to share her story with the Illinois House Appropriations Committee. Here is what Haley shared:
Haley's Story
I grew up in a family where I never saw either of my parents hold a steady job. Every day, when I left for school in the morning, I never knew if I would have a home to return to at night. In fact, by my senior year of high school, I began living with my sister and her family because we had no home. That same year, my social worker from Naperville Central High School connected me with Wheaton Youth Outreach. I applied to their transitional housing program at Hawthorne House, where I could learn to become a self-sufficient adult. I am now well on my way.
Today, I live in a house with a family and other homeless girls who are supported by Homeless Youth funds. I came to the program with a dark world view and with very few independent living skills. Together, with the help of our case managers and counselors, we are learning how to live in community and are practicing interpersonal and life skills. I've learned how to manage my money and have opened a bank account. I have accessed mental health services and found my way out of darkness and into light, all thanks to my transitional housing program, funded in part by DHS Homeless Youth dollars.
My case manager also helped me enroll for another program at Outreach: the Employment Opportunity Center. My 12-week employment training taught me computer skills, how to be a good employee and how to excel at my job. Through the program, I am taking part in a paid internship—and paying taxes. Thanks to the customer service skills I've been learning, I am now in the final stages of interviewing for a permanent job that will get me closer to my career goal and become self-sufficient for the first time. Now, when I get ready to graduate from Hawthorne House, I will be equipped with both the life skills and career skills I need to be successful, and to give back to my community.
I was speaking with a state representative about why it is important to keep the Homeless Youth money in next year's budget when she asked me, in light of the recent Chicago Tribune articles on youth in care, if I felt safe living at Hawthorne House. I told her, "Not only do I feel safe, but I feel loved."
Please invest in Homeless Youth. We are already paying back. I am 18 and I am a voter and a taxpayer.