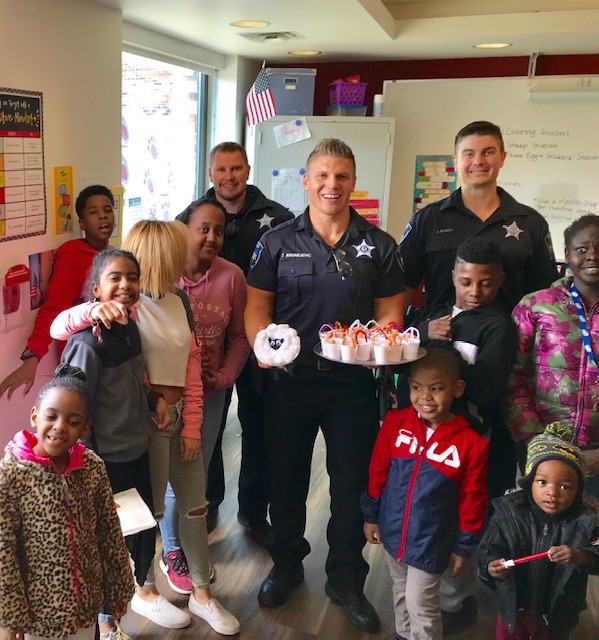 More than 40 OCC-Villagebrook residents came out for family fun at the annual Villagebrook Easter Egg Hunt on Saturday, April 13. This year, special guests, officers from the Carol Stream Police Department, attended the event!
Program Coordinator Marissa Sabio, with the help of volunteers and members from Teen Council and Community Council, hosted the day, which included indoor craft activities, snacks of cookies and carrots, and the main event: the hunt for 1200 eggs hidden in the Villagebrook Apartments playground area (for the little ones 0 – 5) and throughout the complex (first grade and older). Four special eggs were hidden throughout the complex, entitling the finder to special prizes. The fourth and final egg took almost an hour to find, but fourth grader Jakayla Williams was persistent and eventually triumphant.
The police officers joined in the fun, helping kids with crafts, making sheep from paper plates and cotton balls, decorating foam eggs with stickers, and designing their own eggs with markers and crayons.
Marissa says that this event, open to the whole community, is a really fun day to plan and participate in. "I enjoy providing the opportunity and materials for parents to interact with their kids, siblings and neighbors to help each other out, and everyone to have fun in a safe community space," she says.
She adds, "Plus, unlike last year, the weather was just perfect!" noting that the next day Chicagoland got hit with 5 inches of snow.
Outreach Community Center – Villagebrook is a satellite site of Outreach Community Center in Carol Stream, offering after-school and summer programs for 1st-3rd grade students as well as case management services and community development opportunities for those living in the Villagebrook Apartments in Carol Stream. All activities of Outreach Community Center – Villagebrook are supported by Full Circle Communities.