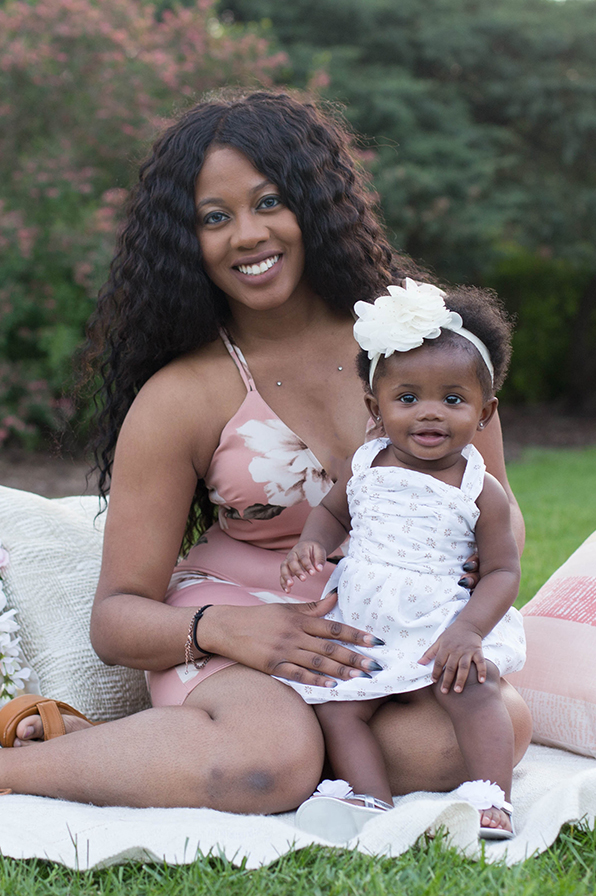 Jalena was almost 19 when she found out she was pregnant. Unable to continue living with her single mom, who was unable to support both Jalena and her baby, she moved out and lived between her grandmother's house and her car while working two jobs and going to school.
As her due date neared, she knew she needed to find somewhere to go. After researching online for housing for young moms, she found Jubilee Village (JV). While the moving process was stressful because the baby came early, she immediately settled in and felt at home. "The staff was warm and welcoming from the very beginning," she says. "They're helpful and resourceful, and they don't judge."
Jalena is most thankful for the stable housing, but truly appreciates the community. "If I just had a bad day, I could call Holly Points (Jubilee Village case manager) or Jana Jenkins (houseparent) and talk. I came to them with every financial struggle, whether keeping up with bills or an expensive car repair, and Holly and Michelle knew exactly what to do." Jalena recalls being able to voice concerns to them without feeling awkward or weird about it.
Goals
As Jalena adjusted to life with her baby girl, she set small goals with Holly such as budgeting and planning for the next steps. She decided to quit her part-time job in retail and find something more stable; she recently started a full-time job at Central DuPage Hospital as a call operator specialist. She also started taking classes at College of DuPage. She's working toward her associate's degree and hopes to eventually obtain her bachelor's degree in business or media production.
"My career goal right now is to be financially stable, to make it on your own without any help or public assistance," she says. "But my ultimate goal is to be a better mom, doing everything I can to make sure my daughter is getting all the resources she needs to feel safe and to thrive."
A Perspective Change
When Jalena first arrived, she figured she would leave in a year. (Jubilee Village is a two-year program.) She thought it would only take a year to get herself in a better, stable situation. Now, she doesn't want to leave and doesn't think two years are enough. "I thought I would be all alone and isolated from everyone else that I love, but that's really not the case," she says. "I can see friends and family as much as I want. Being here is only helping me do better."
Holly says she's there to help each girl at Jubilee Village make the most of the two years, and the program is personalized to each girl. She agrees that, after going through the first year, Jalena has learned a lot. "She's become a lot more realistic—knowing what it takes to be independent, what she needs to accomplish before she leaves, and how she can make the most of what Outreach has to offer. She's really good at doing what she needs to do, so I'm more of a support. That accountability is really helpful."
A Jubilee
The support at Jubilee Village goes beyond just budgeting and accountability. Jalena felt that her experience at Jubilee offered her hope and a second chance. "I remember a community meal with Dave and Jana (houseparents), in which Dave talked about the 'Year of Jubilee'—it's a time to relieve an individual of all previous debts and for the person to start over, rebuild and grow," says Jalena. "I definitely feel that here. I have been blessed with the chance to start over, and to do it while learning to be a mom."
Despite working hard and trying her best, Jalena doesn't know how she would have made it without JV. "It would've been ten times harder, trying to find financial stability while working a part-time job, going to school and learning to parent a newborn—I probably would've had to drop something." She says the houseparents and counselors have helped slow her down and put her on the right track.
The young mother realizes she has been given a special opportunity and doesn't want her time at JV to be over. "This place is a blessing," she says. "I would stay forever if I could."