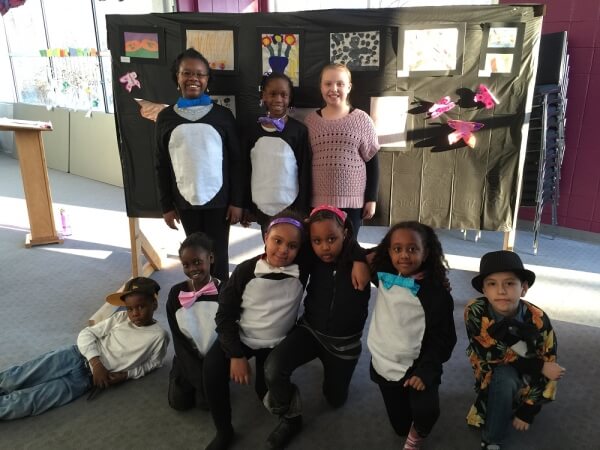 The Jubilee Neighborhood School (JNS), the elementary school program at Outreach Community Center in Carol Stream (OCC), is a vital ministry to children and families in southeast Carol Stream. Mary Lundeen, who took the reins as JNS Program Coordinator during the 2014-2015 school year, shares more about the program.
"JNS wraps around the public school program for children in 1st through 5th grades who have working parents," she says. "Not only does it provide free child care to help support families financially, but it also provides a safe, positive, educational environment. Staff and volunteers truly care about the school-aged children who attend and work to help them thrive."
At JNS, students are provided healthy snacks, homework assistance, social-emotional learning, recreation and optional Christian education. The program includes classroom time as well as one-on-one tutoring with an adult volunteer, plus plenty of fun and special events are built into the schedule.
In recent months, activities have included:
A "Knock Your Socks Off" showcase of special interest clubs including drama and choir.  Parents and tutors came out to watch their students' skits and performances, and everyone in attendance received a free pair of socks and an opportunity for a professional portrait.
New after-school clubs including crochet, art, dance, photography and sports. All 66 students choose the club they wanted to participate in.
Choir practice for the OCC Spring Dinner and auditions for solo parts.
The program runs after school during the school year, plus during the summer from 8 a.m. to 3:30 p.m. for eight weeks. JNS's summer curriculum focuses on helping students retain academic skills in reading and math, and provides a variety of fun summer activities such as swimming and field trips.
Throughout the year, Mary is passionate about helping students learn, grow and succeed. "My goal is to keep JNS a fun, safe and meaningful place for our students to develop and dream big."