Jubilee Village, Wheaton Youth Outreach's transitional housing program for single, formerly homeless mothers and their children, thanks local donors for outfitting its building with new windows. The 175 old windows, which were original to the 40-year-old building, were replaced in early October and a dedication ceremony was held on Tuesday, November 15.
Funding for the new windows, a $155,000 project, was donated by First Presbyterian of Glen Ellyn, Junior League of Kane & DuPage Counties and generous friends of Outreach. Waterman Brothers graciously secured the windows and provided installation at a discount.
"We're so thankful for new windows that save money and have modern safety features, which is so important for a building with young kids," says Michelle de Muir, director of Jubilee Village.
"I work with young single moms who don't always know they're valuable and loved," she adds. "When people give generously so the girls can live in a building with beautiful new windows and curtains, it encourages them to believe that they have great worth in the eyes of God and in the hearts of so many donors. Thank you!"
"The Junior League was honored to contribute to the new windows for Jubilee Village," says Jessica Jecmen, president of the Junior League of Kane & DuPage Counties, Inc. "Our community focus is supporting women and children, ages 0-5, who are living in poverty in Kane and DuPage Counties through programs focused on education, health and family stability. Being able to contribute in a meaningful way to Jubilee Village—a place that so beautifully aligns with our focus—is a delight."
"For more than 40 years, area churches, civic organizations and individuals have faithfully supported the mission of Outreach Community Ministries and its programs and that legacy is continuing today through the window project," says Chris Ellerman, CEO of Outreach Community Ministries. "It takes a special person or group to recognize that investing in practical necessities, like new windows, enables real life transformation to happen."
Those who donated windows join several other key investors who are funding much needed improvements at Jubilee Village: Blanchard Alliance Church, Cornerstone Foundation, Epaphroditus Foundation and a number of anonymous donors.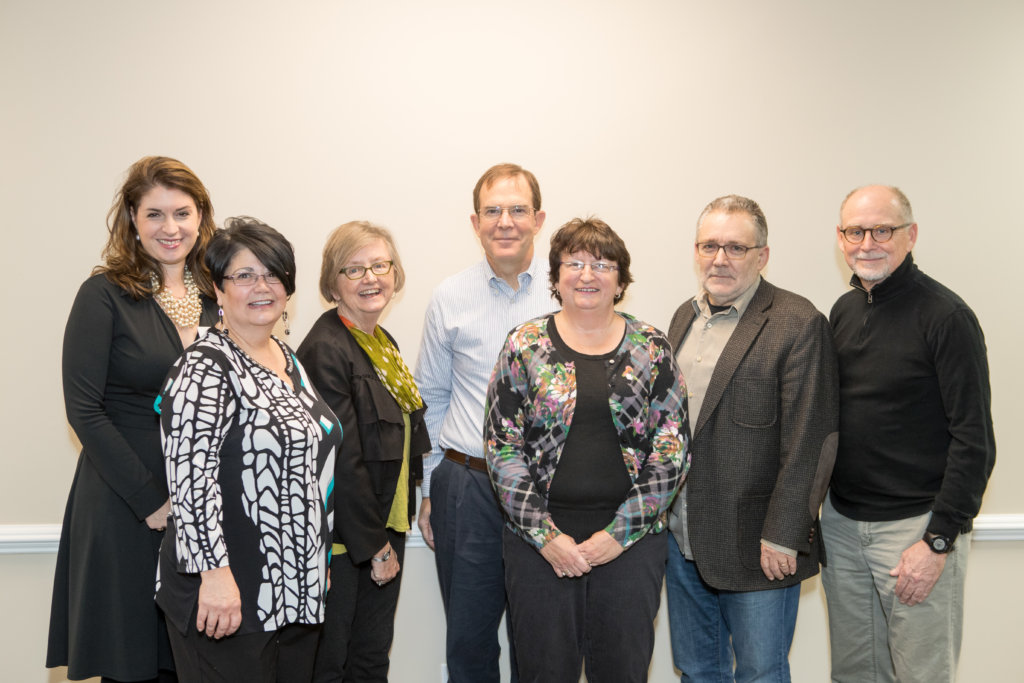 Pictured left to right: Jessica Jecmen, president of the Junior League of Kane & DuPage Counties; Michelle de Muir, director of Jubilee Village; Gail Hoffman, director of Wheaton Youth Outreach; Jack and Connie Weaver, friends of Outreach; Chris Ellerman, Outreach CEO; and Bob Duncan, First Presbyterian of Glen Ellyn representative.
Prayer of dedication by Jubilee Village Houseparent Dave Jenkins:
Father of lights, every good and perfect gift is from you.
You describe your greatest gift of Your Son as the Light of Men.
He shines into the darkness and though we walk through seasons of darkness,
His Light always overcomes.
The openings into Your heavens are described as windows.
From the beginnings of recorded time Your created people have stood at windows.
From windows we observe, learn, and are both warmed and inspired.
May your light shine through these new windows in Jubilee Village.
May we who labor and reside here see all we are to see.
In the darkest and loneliest of days may we see new hope.
May we see new relationships rooted in covenants of loving kindness.
May we see discernment and courage arise from the broken.
May we see joy, laughter, and celebration among the young and old.
May we see sunrises and sunsets.
May the sights from these windows call to praise and prayer.
May the laborers who installed these windows be strengthened.
May their labor see reward in this life and into eternity.
May those who sacrificed of their resources see the fruit of their sacrifice.
May you continue to bring prosperity upon DuPage and Kane Counties.
May these counties be light to the world.
We make this dedication in the name of the Light of the world. Amen.