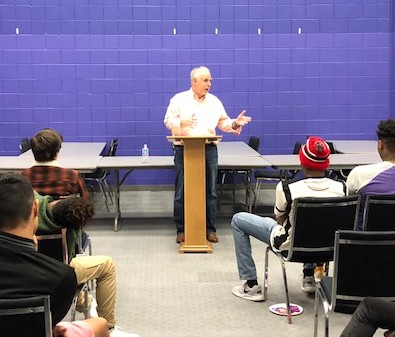 High school students from the Student Achievement Leadership Team (SALT) program at Outreach Community Center in Carol Stream (OCC) were recently treated to a visit by Illinois Supreme Court Justice Robert Thomas. Judge Thomas, who has served as the Illinois Supreme Court Justice for the Second District since December 2000 and as Chief Justice from September 2005 to September 2008, spoke to the students about his life and career.
Staff prepared a Q&A session for the judge that included questions about his education and career path, what a criminal court is like, what a typical day is like for a judge and how the supreme court is different at state and federal levels. Students were also able to ask questions during an open Q&A after Judge Thomas finished speaking.
OCC College Coach David Johnson said Judge Thomas had an impact on the students and reached a number of them in a personal way. "A few of them resonated with his story about faith and the lowest points in his life, while others connected with the path of his career," he said. "One student was very excited to meet him because she has been accepted into Loyola, where Judge Thomas did his legal studies, and she is interested in law, as well."
Judge Thomas praised the SALT program, commenting on the attentiveness of the high school students and the insightfulness of their questions. "The program has successfully encouraged these young men and women to contemplate their futures," he said.
He added, "I hope one of the takeaways from our time together was Jeremiah 29:11: 'For I know the plans I have for you,' declares the Lord, 'plans to prosper you and not to harm you, plans to give you hope and a future.'"
Students and staff are grateful to Judge Thomas for taking the time to visit the Center and thoroughly answer students' questions. "All students were moved by the stories he told, the wisdom he imparted and the encouragement he shared for their future," said David.
SALT is a program for high school students who are interested in developing leadership skills and pursuing higher education or vocational training. The students must be motivated to attain high levels of academic achievement, employment and strong character. Students meet with program staff during the week for discussion, activities and academic tutoring. Open gym nights and Bible study groups are optional activities. Occasional field trips, college visits, retreats and career nights are offered.
To date, seven SALT students are planning to transition to the College Opportunity Program (COP), the college prep program that allows them to apply for scholarships, with two students expected to also join the program.