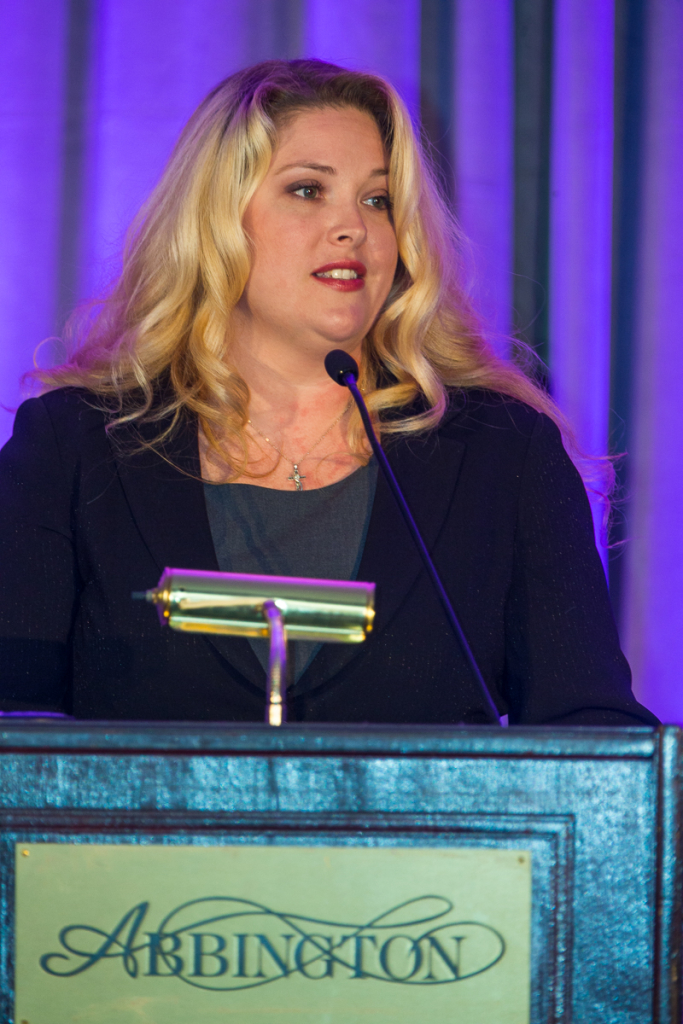 Juliet Dillon, a former resident of Wheaton Youth Outreach, gave her testimony at the Hearts of Grace women's luncheon on October 15. Below is an edited version of her speech or click to watch a video of her speaking.
The spring of 1999 changed my life. I became what I had only imagined could happen to "those" girls, the kind you see on the talk shows, living a life of poverty, bad decisions and certainly no morals or ethics. Nothing like me. I was the girl who got pregnant her senior year of high school. While my high school years had not been exactly what I had pictured, this certainly was far outside the realm of how my life was supposed to go. After my parents made me switch schools my sophomore year, I decided to start doing the very things they accused me of doing: smoking cigarettes, smoking marijuana, drinking alcohol and being promiscuous with boys. I thought I was rebelling and revolting against them, but the person I hurt the most was myself.
Luckily, I still had my sports and a couple close friends to get me through. I had a strong resolve that after high school I would go on to college, play softball and experience all the once-in-a-lifetime party aspects of college, while still getting an education that would bring me much success in the future. I was rated #1 in my conference for pitching at Benet Academy, but I had to quit the team when I became pregnant—the result of what turned out to be a one-night stand. It's amazing what teenage girls will do to win a young man's affection. No matter how smart we may be, the trophy idea of being in love can make us do foolish things. So I became the girl I said I would never be.
I knew the news would not be received well by my parents so I chose to invite them to one of my regular counseling sessions to break the news. I had been going to counseling for years for depression, which came as a result of being forced to switch schools and the lack of a warm welcome there. So I came out and said that I was pregnant and I received silence in return. I could tell Mom was getting very angry, and Dad just looked disappointed. And then he said, "You know, I thought you looked like you were getting fat." I smile now, but that day it was very serious.
I did not have a good relationship with my mom, and I had already made arrangements to live with my best friend. At first, nobody supported me having the baby. My parents did take me to Planned Parenthood, and I researched my so-called options, but I knew I couldn't abort or give this child up for adoption. It would be emotional suicide for me and probably ruin the rest of my life. The one person whose advice I have always cherished was my supervisor at Best Buy, where I worked at the time. She told me that she went through something similar but wasn't given a choice back then, and not a day goes by that she doesn't wonder where her daughter may be or how she is. So she said, "Whatever you do, make sure the decision is yours."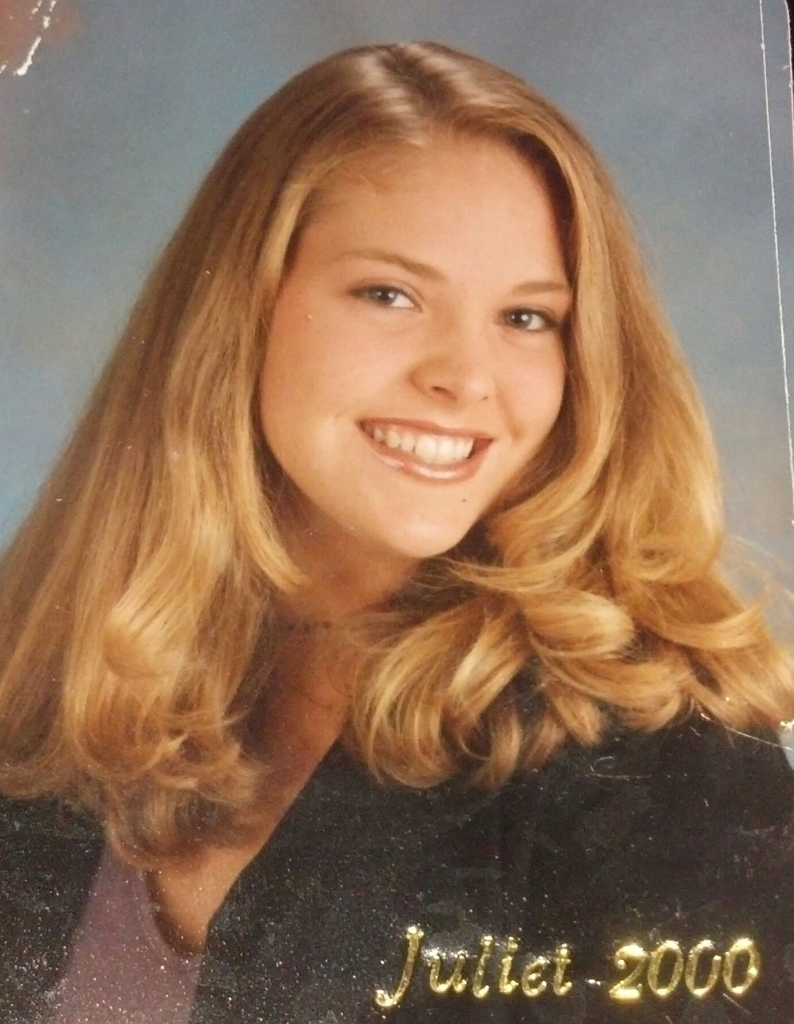 I started having dreams, waking up and hearing these phrases repeat in my head: "Where there is a will there is a way," "God works in mysterious ways," and "God never gives you more than you can handle." After days of deep thought and milling over all these words and phrases that clearly God had put on my heart, I concluded that I was in fact going to be a teen mom. I was going to have this baby, and if nobody would support me, I would do this on my own and I knew that God would get me through. I wasn't able to attend school due to morning sickness so the school agreed to let me drop all my classes and just let me take the religion final since I had enough credits to graduate. In fact, I had only attended a half day my senior year and I was taking college classes at College of DuPage in the afternoons. Too embarrassed to let my classmates see me and afraid of all the rumors, I had my diploma sent to me in the mail.
Once the baby started to show, my parents slowly started changing their tune. While still horrified for their reputation, they began to reach out and offer to help me prepare for this baby and I moved back home.
On November 17, 2000, my son Gavin was born. I remember being so afraid of not knowing enough, not being ready. I read so many books during my pregnancy and I still worried that I may not be able to do this. But the moment he was placed into my arms, those maternal instincts kicked in. Now it was just the two of us. I had a renewed strength, a renewed faith in God and readiness for a new chapter in my life.
As the days and weeks went by, the tension between my mom and I grew. She was trying to parent me, trying to be the mom, criticizing and nagging me over little household things. She had all the love in the world for my son, but had nothing left for me. I knew I had to find a way out on my own, away from my mother, before I allowed myself to slide back into depression and giving up on life. I was not going to give up ever again. So I got a job and started researching my options. Ten dollars an hour was not enough to live on my own. I called just about every place I could find in the phonebook. And then eventually I found Wheaton Youth Outreach. I met with a social worker, applied to be part of the housing program they offered for young single moms and waited. A month or two later they had an opening and I had a new opportunity to make something of myself, on my own.
I moved into the apartmen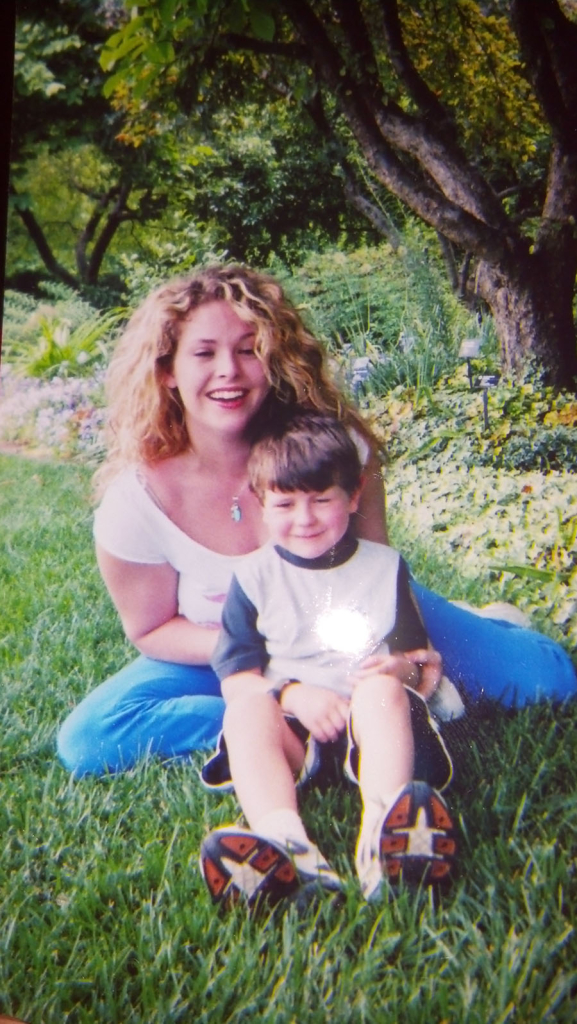 ts on Duane Street and began to see my life change. I would take my son to daycare, go to work, pick him up, come home, make dinner, spend quality time with him and, after he was down for bed, I would stay up to work out on my little elliptical machine that I had bought at a resale store. I'd stay up even later to clean up and do the dreaded dishes—let me tell you, I think I would rather scrub toilets than do dishes, so staying up to do them each night shows just how disciplined I was. I had committed to being the best mom I could be. I met two other moms through the program, Carmen and Susan, who quickly became my best friends. Our little trio was always together when we weren't working or, in Susan's case, going to school. On the weekends we would often put our kids to bed, turn our baby monitors on and go from apartment to apartment making a new meal or snack at each person's place—laughing, joking and enjoying fellowship with one another. It was the closest thing I had to the college experience. We all had clear goals and used the program to the fullest to make the best life for ourselves.
The services Wheaton Youth Outreach provided along with the housing was truly life changing—meeting with a social worker, getting help with food and clothing and toys at different times, having the community dinners, and connecting us with other programs as well as having the most wonderful house parents that we could go to at any time for assistance. Within the first year in the program, I managed to excel in my industry, switched to a new company and almost doubled my income. My ambition was clear. After a year and a half, at 20 years old, I purchased a condo and moved out. Looking back, I don't know that I would have been able to get on my feet without the invaluable assistance of this program. I made lifelong friends and figured out how to be independent and on my own.
Beyond those things, though, I want to talk about faith. The houseparents always encouraged me. And even if it wasn't telling me about a new Christian band or lending me a CD or book, their kindness and warmth were evident. They didn't just talk about God—they let His love show through their actions and words. In retrospect, I can see how God used these wonderful people to work in my life.
I tried going to church—several different churches actually. For awhile I was going with one of my cousins and her family, but it got to the point where they were always volunteering and their kids were in the nursery, Gavin was in the nursery, and I sitting alone in church. Gavin would always be crying in the nursery when I picked him up. I thought, this is the time I have on the weekend with my son, but it's also the time I'm trying to grow in my faith, and I feel terrible being apart. I also felt the sharp stare of people, probably wondering if I was Gavin's mom or his big sister, and I felt like an outsider. So after a few months of trying I quit on church.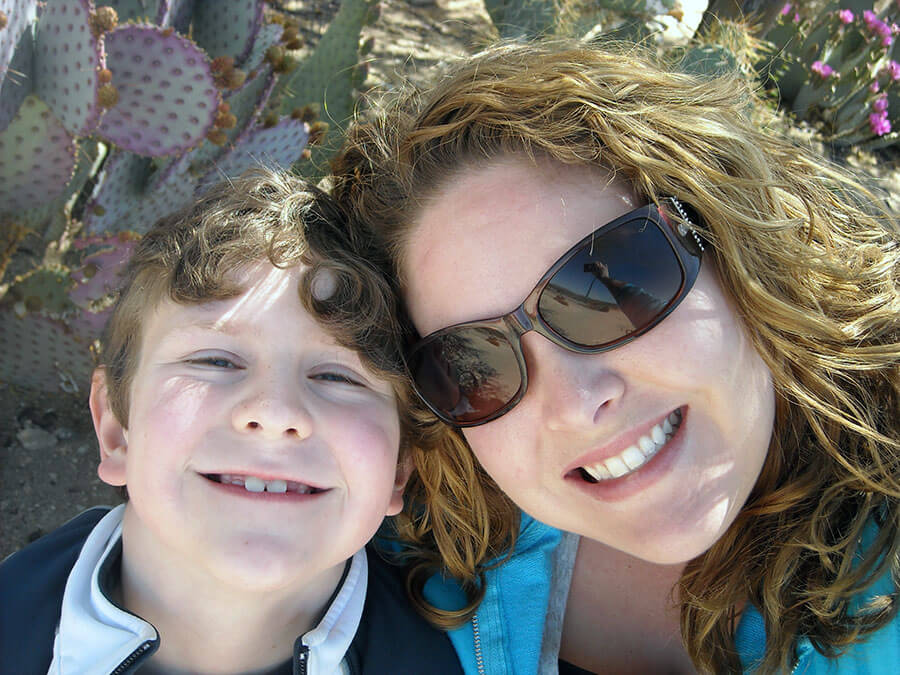 I began focusing more on work and, while I never lost faith in God, I kept it hidden inside. I moved into my condo and for the next decade had a roller coaster of life and faith, love and loss. I was still trying to find my identity, still trying to make up for my son only having one parent and wanting to give him the world. Many different times throughout his childhood I pleaded with God, asking, "Why am I still single? Why haven't I found anyone yet?" Now, let's be honest, I can be a little stubborn. In fact, I really, really like it when things go my way. It's hard to give up the steering wheel, and while some really wonderful things had happened in my life, God often had to let me hit what I would call rock bottom before I would finally learn my lesson.
Just over two years ago, it happened again. Matthew 6:24 says, "No one can serve two masters; for either he will hate the one and love the other, or he will be devoted to one and despise the other. You cannot serve both God and money." Well, money wasn't my issue, but my social life and drinking became the problem. I had convinced myself that I would never meet anyone if I wasn't going out. This lifestyle had become more important than my faith, and in this way it became my master, taking away my focus from God. So He had to teach me again. I don't want to spend too much time here, but let's just say I had a very bad night. The next week I knew my life had to change.
I gave up my social life and started thinking about how I can be a better mom, better worker, better person overall. I spent time in meditation and got back to working out. I had been going to the Compass Church for over a year at this point—a balcony sitter, if you know what I mean. I was in and out, without socializing or getting to know anyone. I finally joined an apple picking outing for the singles group and decided I would try to make some Christian friends back in the beginning of October 2013. I felt good about it and I committed to stay on this path. A few weeks later, I prayed a totally new type of prayer for me, asking God to show me how I can serve Him. This prayer was not for my own gain, but for His. And I meant it. No more praying for the man to come into my life or more money or friends or selfish prayers of what I wanted. Instead, I asked, "How can I serve you? Show me what you want for me. Show me how to follow you. Show me your will." Days later I met the man that I married this past June. And now I'm pregnant with our first child. It's so wonderful to hear people congratulate us when we tell them the news.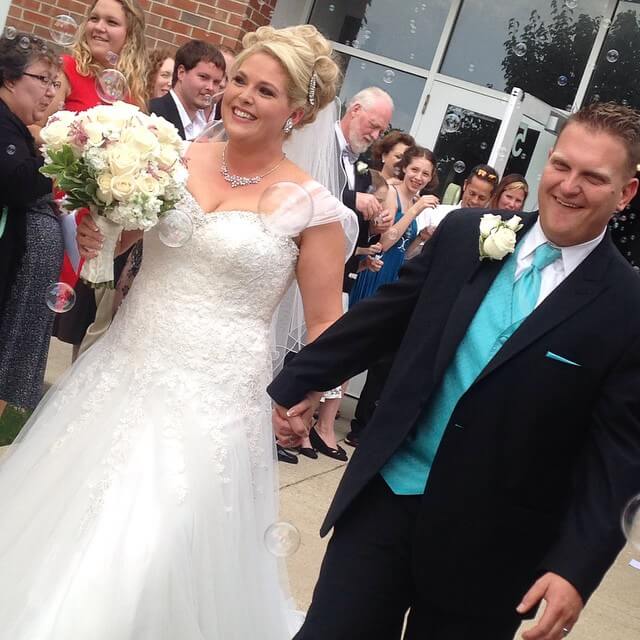 I've come a long way since my days in the Duane Street apartments. I've been in the mortgage industry for 15 years now, and have a solid career as a mortgage consultant. I have resolved the issues with my parents, and while no family is perfect, we have a pretty good relationship. God works in mysterious ways, and while we don't always know the path, He knows our hearts and He knows how to use our circumstances to bring good. Wheaton Youth Outreach was part of His plan for me.
I stand here today a success due in great part because of this program. I don't know that I would have been able to take those huge strides forward in my life if not for this fantastic program of loving, caring people who just want to help out. In fact, I feel so strongly about the importance of it that I've been discussing with Gail Hoffman, Director of Wheaton Youth Outreach, ways I can be a part of it. I ask her how I can help or mentor some of the girls. I'm always looking for ways to bring them to church and help them to grow in their faith so that no matter how they may falter in life, they can know that God will get them through it!
It's a brave thing to have a baby as a young adult, especially in today's culture where the world says do what you feel like, enjoy the pleasures of life, and then get rid of the consequences. Selfishness and hedonism have become first over faith, ethics or morals. I thank you so much for your support of this wonderful program that embraces the right values, helps young girls like me make the choice to support life, and gives them an opportunity to make a good life for themselves and their children. Thank you!