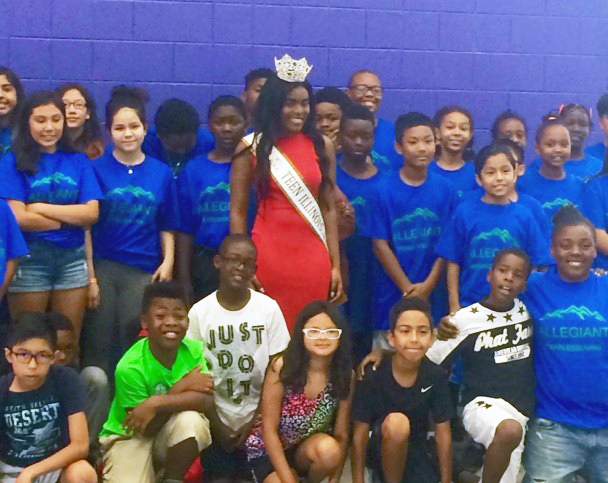 Learn 2 Earn (L2E), the summer segment of Outreach Community Center's junior high Superb Student Program, has had an eventful summer!
The group kicked off the summer with a visit from a former L2E participant and 2017 Miss Black Teen Illinois US Ambassador, Shautierra Wilson. Shautierra, an author, youth activist and radio host of Teens with Voices, encouraged the Learn 2 Earn youth to be fearless and to follow their dreams.
Another visitor to the program, US Army Recruiter Sergeant Oviedo, shared the importance of healthy eating and exercise. Sergeant Oviedo challenged the students to consider their food choices and gave them tips regarding foods that would be beneficial to their overall health. After the presentation, students participated in various exercises led by Sergeant Oviedo.
Other highlights of the summer:
L2E middle school students were student leaders to the elementary JNS students. According to Chantel Gamboa, Learn 2 Earn director, L2E students served in the role of teachers, led games and crafts, and prepared snacks for elementary youth. "Fun day activities provided a way for L2E students to gain leadership and problem solving skills, and increase skills in collaboration, listening and articulating ideas," she says.
The group took trips to the Discovery Museum in Rockford, which included over 300 interactive science-based activities, and Water Works Indoor Water Park in Schaumburg.
In partnership with the Carol Stream Police Department, students participated in the D.A.R.E. and G.R.E.A.T. programs. D.A.R.E. is designed to teach drug resistance skills and the G.R.E.A.T program is a Gang Resistance Education and Training for youth. On August 4, Officer Castro and Mayor Frank Saverino passed out certificates to L2E students in recognition of their participation and completion of the D.A.R.E. program.
"What a fun and unique summer!" says Chantel. "Students have enjoyed a wide variety of programs and events that will build upon the education they receive during the school year and that we hope will stick with them as they navigate their junior high and high school years."