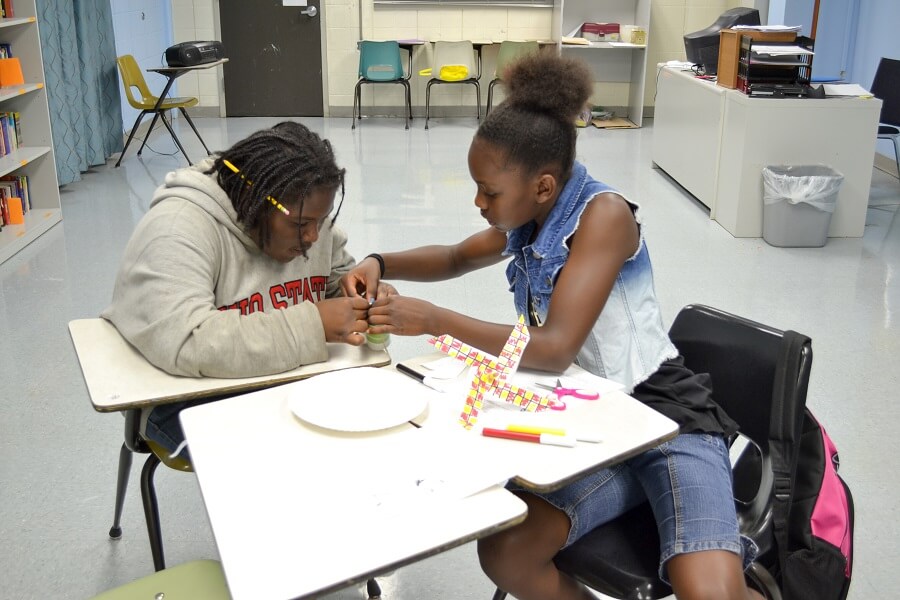 Outreach Community Center in Carol Stream junior high students focused on education and service in their summer Learn 2 Earn program.
Harnessing Creativity
Chantel Gamboa, OCC Junior High Program Coordinator, intentionally included ‪more STEM (science, technology, engineering and mathematics) curriculum as part of the summer program. The class recently built windmills and used recycled materials to construct art projects based on a book they were reading, "The Boy Who Harnessed the Wind."
"The book, based on a true story, is about a student who brings electricity to his village by creating a windmill," says Chantel. "By working on the windmill project, we took an interdisciplinary approach and connected language arts with the science class."
Serving Older Adults
Middle schoolers also kept busy by serving others; they hosted a pancake breakfast for older adult residents at Colony Park apartments in Carol Stream. The students set up tables, cooked three kinds of pancakes, served them to the residents, played bingo after the meal and passed out prizes to the winners. After that, they cleaned up. "The students provided service to approximately 40 residents during the entire breakfast," says Chantel. "It was a big success."
Girl Scouts Give Back
Thanks to the Girl Scouts of Greater Chicago and Northwest Indiana, the middle school girls also met as a Girl Scouts troop one day a week for four weeks. Chantel says the Girl Scouts program integrates well with the Learn 2 Earn curriculum. "The scouts focus on building self-esteem and introducing young ladies to entrepreneurship, topics that we regularly emphasize in our life skills and job readiness components," she says. In addition, Chantel specifically requested a day that focused on STEM (science, technology, engineering and mathematics) in order to incorporate more science into the classroom.
At the beginning of each class, the girls recited the Girl Scout promise and discussed their highs and lows for the week. Each week, the Girl Scouts provided an activity such as team-building exercises, journaling, crafts and making tie-dye t-shirts. They also led a catapult competition (the STEM activity), in which each team designed catapults, created with recycled materials, and tested it to see which team could shoot the farthest.
The students shared positive reactions about the program:
"I really liked it. It's like a brain workout. I am a crafty person, and it gave me ideas to do other things at home."
"I really liked building things, and I liked doing tie-dye. Instead of just sitting in the classroom, it takes you outside and it challenges you."
"I learned about working together more."
The OCC girls were established as an official troop, Troop #55222, for the summer and have the option of continuing it under different leadership. Thanks to the Girl Scouts for your partnership!