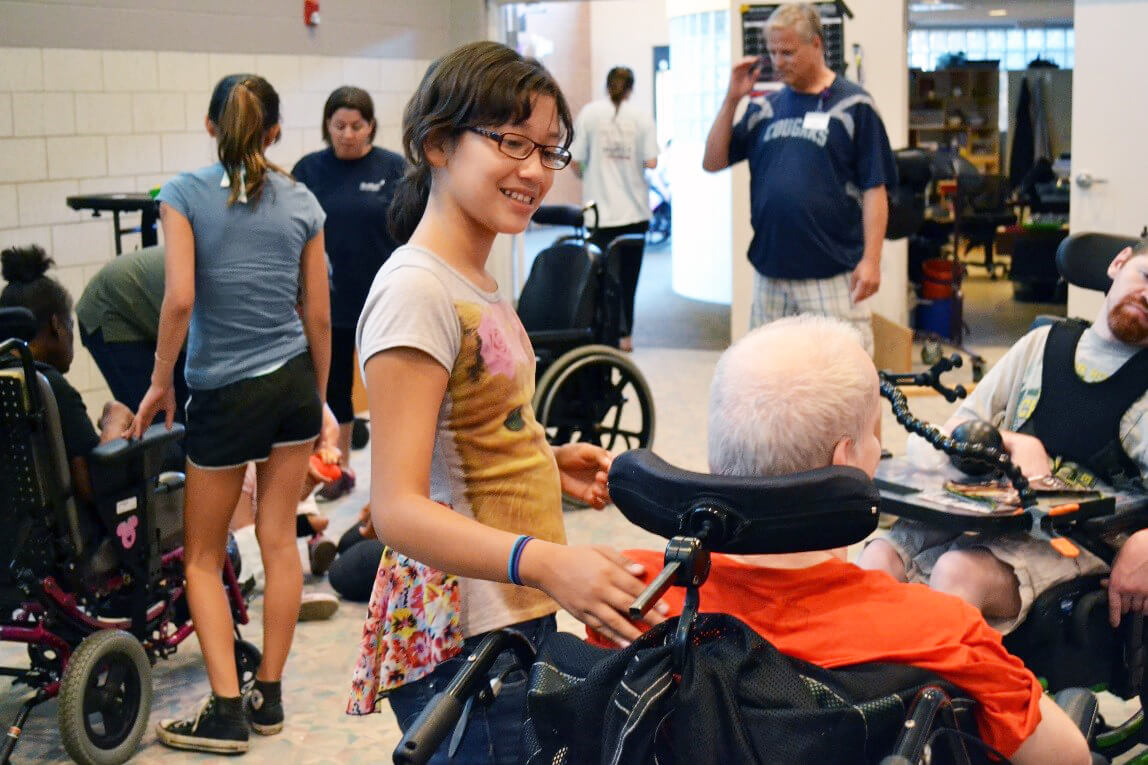 On fifteen different occasions this summer, middle school students from Outreach Community Center in Carol Stream (OCC) are spending an hour of their day volunteering at Marklund, a nonprofit organization serving people of all ages with serious and profound development disabilities. This is a part of OCC's Learn 2 Earn program, which enrolls 50 6th- to 8th-grade students every summer.
On their first day at Marklund, six girls from Learn 2 Earn joined Marklund clients for activity time. Each girl teamed up with a client to help them play a modified version of hockey and participate in "batting practice," using a Wiffle ball bat to hit a tethered foam ball.
Upon arrival, the instructor of activity time asked for a volunteer to work with one of their most difficult clients. Without missing a beat, Jessica raised her hand. She worked with the client for the rest of the hour, holding her hand to calm her down whenever the client was upset. "I just really like seeing other people be happy," Jessica said.
Mar, another member of the Learn 2 Earn program, feels that volunteering at Marklund is a wonderful learning experience. "It helps show me how much I can respect and relate to people who don't have the same abilities as me," Mar said, adding, "It's nice to be there when they need a friend."
Learn 2 Earn student Sydney explained that volunteering was one of her favorite parts of the program. "I love feeling like I'm helping to make a difference. They can't do the same things as I can, but I can show them what they can do," Sydney said.
OCC has collaborated with Marklund for 15 years, providing volunteers to both of their locations over the years. "The same group of kids volunteers at Marklund every time, so they are able to build relationships with the residents over the course of the summer," Learn 2 Earn program coordinator Chantel Gamboa said.
Marklund is just one of many community service opportunities Learn 2 Earn students take part in each summer. "These hands-on opportunities allow them to gain soft skills and learn to communicate effectively with a team," Chantel said.
The mutually-beneficial relationships OCC has formed with various organizations have greatly enhanced the summer program. For example, Learn 2 Earn students volunteer at Northern Illinois Food Bank, which also provides breakfast and lunch to OCC students throughout the summer. Similarly, students do a community service project at Lincoln Marsh, which then gives the program a discount to use their ropes course for team building.
Over the years, Chantel and her team have developed this program quite a bit. What was originally a short training to prepare kids to volunteer at various sites is now an interactive life-skills training course that takes place during the first few weeks of Learn 2 Earn.
During this time, summer instructors teach job readiness classes, which help students learn soft skills such as communication and listening, encourage teamwork through team-building exercises such as a rope course, and prepare kids for future job situations, such as interviews.
In addition to the training and volunteer opportunities, academic classes and recreational fun join together to form one cohesive summer program. With a focus on social and emotional learning and self-management, this program aims to "continue to strengthen the skills these kids already have, and help them to develop new skills."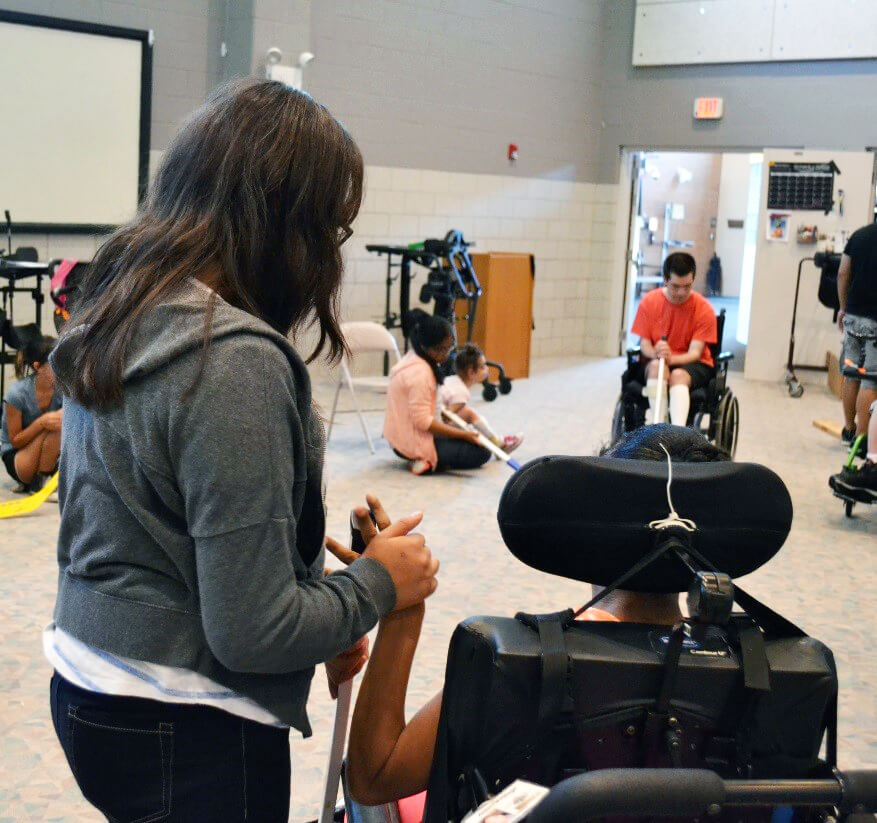 A unique aspect of Learn 2 Earn is the stipend opportunity that is provided to kids enrolled in the summer program. Every week, each student has the chance to earn up to 200 points. Like any job, students are not just given these points. Instead, they earn them based on their effort throughout the week. These points translate into a weekly stipend, with new students able to earn up to $25 per week. To emphasize the importance of retention, returning students can earn up to $30 per week.
This encourages students to work hard in all aspects of the program and introduces them to the accountability needed to hold a job in their future. Along with this stipend, the program teaches the students about financial literacy to ensure that they are prepared to handle their money in a responsible way.
However, this is more than just a reward system and a learning opportunity. As Chantel explains, "many of the students save their stipend money to buy new school clothes and supplies for the fall. Many of our students' parents don't have extra income, so the stipend that the kids earn themselves helps supplement this."
It goes even deeper, as "some kids use their money to supplement general household items, and to help out in their families. Some have even used the money they earn to help pay bills."
With financial help from the Community Development Block Grant (from the U.S. Department of Housing and Urban Development), OCC is able to provide this stipend program that not only supports and encourages children but supports their families as well.
"The majority of the kids in this program are from single-parent homes," Chantel said. "If our program did not exist, these children would be home alone all day during the summer. Learn 2 Earn is so important because it ensures that these kids will be in a safe place, removes the financial stress on parents to pay for babysitting and provides the kids with a healthy breakfast and lunch each day. Plus, our students are gaining life-long skills and experiences."
Learn 2 Earn is an amazing way to reinforce and strengthen social skills, good behavior, self-esteem and academics over the summer, preventing the deterioration of these skills during the three-month break from school.
Chantel notes one student who has blossomed during her time in Learn 2 Earn. Upon first entry into the program, Kate was very shy and reserved. She had low self-esteem and was unwilling to speak up for herself. However, during her time in the program, she began to interact with other kids. Kate excelled in athletics and started to connect with others as she participated in the program's recreational activities. Over time, she started to gain confidence in herself. "Now, she's found her voice," Chantel explained. "She's ambitious, and she's able to see her strengths."
One of the biggest signs of growth for Kate was when she spoke up in school and took the initiative in her own academics. "Kate felt that her math class was too easy for her, and she advocated for herself to be moved into a higher level," Chantel said. "I'm so proud of her."