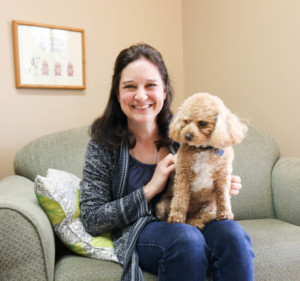 The Outreach Community Counseling Center (OCCC) welcomed Animal Assisted Therapist Aimee Maas and her dog Paddington to the team on December 11, 2017. Amy brings a fresh approach to the job through the innovative technique of animal-assisted therapy.
Prior to working at Outreach, Aimee spent the last 18 years as a social worker in the newborn ICU of Cincinnati Children's Hospital, where she began integrating dogs into the family support groups she ran. Aimee quickly realized the unparalleled comfort the dogs gave the struggling parents at the hospital. "When we started bringing dogs up, I was pretty much blown away by the impact," said Aimee.
As Aimee planned to move to the Carol Stream area to be close to family, she realized the animal-assisted therapist position at OCCC provided an opportunity to utilize her findings from Cincinnati Children's Hospital about the benefit of animals in therapeutic settings. "I love that Outreach is doing something that's so innovative and thoughtful and creative," said Aimee. "It's exciting to be able to do something that's cutting-edge and a new way to think about intervening in people's lives."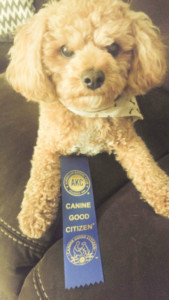 Paddington, a poodle-cavalier-bichon mix, recently passed his Canine Good Citizen Test— and can now attend official therapy sessions with Aimee's clients. As a licensed therapist, Aimee is adding an animal therapy specialization on top of her master's degree by taking additional coursework from Colorado University of Animal-Assisted Psychotherapy.
Aimee is settling into her new role at Outreach and is excited for her newfound ability to integrate her faith into her work. "Already what I'm loving about this position is that I can be more open," said Aimee. "I've had clients who have said, will you pray for me? Another client was talking about a sermon and what it meant to her, which we were able to work into our therapy session because it was so relevant. How powerful is that?"
"I think working with a dog is just another way of God's grace working in people's lives," explained Aimee. When Paddington was just a puppy, the woman who raised him told Aimee she had prayed over all her puppies that they would be a blessing wherever they are, and that God would give them a purpose. "When I took this job I wrote to her, guess what? God is listening to that prayer. I think God will use Paddington."
Paddington's presence provides numerous benefits to the client emotionally and relationally. Aimee explained that a dog's innate sense of acceptance is extremely valuable for creating a calm space in which a client can be vulnerable during a therapy session. Since the very act of petting a dog has soothing effects, Paddington is able to provide stress relief and decrease a client's overall anxiety. One relational benefit of animal-assisted therapy includes the bond formed between the client and Paddington.
When Paddington is visibly excited to see the client, this reinforces the client's sense of connection and creates incentive for the client to attend therapy regularly. Conducting therapy with Paddington also assists with trust formation between Aimee and the client. Aimee emphasizes that forming a bond with someone in therapy is not easy, but "when a client observes my interactions with my dog and sees that I care about him and that I'm careful and gentle and not hurting him, I am gaining their trust too," remarked Aimee.