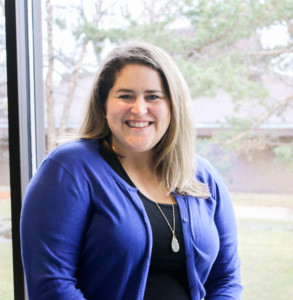 Mindy Inman first joined the Outreach team in 2015 as the events manager, planning annual events such as Golf, Food & Wine, Women's Luncheon, OCC Spring Dinner and more. In December 2017, Mindy joined the Outreach leadership team as the new Director of Volunteer Services and now oversees volunteers at all of Outreach's 7 sites, in addition to staffing large events.
"I love the mission of Outreach and am excited for this new opportunity," said Mindy. "I want to help Outreach as they continue to grow and deepen their relationships in the community. I hope my enthusiasm is contagious and I'm looking forward to representing Outreach in the churches and in the broader community. Our direct service staff at our sites are doing incredibly important work and it is an honor to pair them with committed volunteers who believe in the work we do."
With a bachelor's degree in Christian Education and a master's degree in Theological Studies, Mindy has used both of her degrees to better understand the community in which Outreach is located. "[My degrees] have helped me understand the fabric of this community, and how many denominations come together and support a common cause," remarked Mindy. "Being a part of the leadership team at a Christian organization like Outreach, has been one of my goals and am honored for the opportunity to serve and lead in this capacity."
With growing volunteer numbers, Mindy hopes to continue to meet the needs of the sites as well as the volunteers. "Last year we had over 300 regular volunteers along with an additional 500 for service or work projects. During my first year, I'm taking it all in and trying to learn the breadth and scope of all things volunteers at Outreach," said Mindy. "We have individuals who have volunteered with us for 10, 15 and even 20 years. I want to understand what makes our volunteers so committed and how we can increase that number… because that's what truly helps Outreach be Outreach. The second half of our mission is to help the church put faith into action through service and I want Outreach to continue to be that place for those in our community who want to serve and give of their time. Our volunteers consistently share with us how volunteering impacts them and deepens their faith… I see throughout our agency how both programs and people come alive when we serve each other. That kind of work is inspiring and I'm thankful to be a part of it!"
If you are interested in volunteering with Outreach Community Ministries, contact Mindy Inman at minman@outreachcommin.org or 630.682.1910.