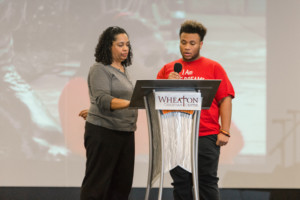 The Carol Stream Community is invited to attend the 21st Annual Dr. Martin Luther King Jr. Day Celebration on Monday, January 20, 2020. This year, the event format is
a breakfast celebration with festivities beginning at 10:00 a.m. at the Wheaton Christian Center, located at 610 E North Avenue, just east of Schmale Road.
The celebration will not only honor the memory of Dr. King but also reach out and facilitate dialogue on the lasting impact of his legacy. The event features an inspirational tribute by the Wheaton College Gospel Choir who will perform under the direction of Tanya Egler, as well as a special community circle discussion, led by RESTORE: Carol Stream Peacemakers. Outreach Community Center (OCC) staff members will provide an update on the College Opportunity Program's annual college tour, and students will share how this program has empowered them to pursue their dreams.
The event is sponsored by Outreach Community Center in Carol Stream, the Village of Carol Stream, Wheaton Christian Center and Our Savior Lutheran Church with breakfast donations from local businesses including Starbucks (Geneva Rd./Wheaton), McDonald's (Schmale Rd./Carol Stream) and Denny's (Schmale Rd./Carol Stream).
Dina Hillard, Executive Director of OCC, shares, "This is a great opportunity for the community to come together to honor and celebrate the life of Dr. King, so we encourage all who are interested, especially young people, to join us."