Ann Marie Andexler knows what it's like to be a single mother with nowhere to go. "I have four kids and went through transitional housing," she says. "I know that road, and it's a long and difficult road."
When she attended the Hearts of Grace Women's Luncheon a few years ago and heard about Jubilee Village, Outreach's transitional housing program for young, single mothers, she was moved. "It was challenging to become a single mother in my 30s with a college degree; I can't imagine how much harder it would be as a young 20-something who might not have attended college," she says. "Jubilee Village is making a tremendous difference in the lives of young mothers."
As Ann Marie's admiration for the program grew, she was stirred to action. "I kept praying, 'God, what would you have me do?' That's when it hit me: Mother's Day was coming up. I felt God speak to me and tell me to love these young ladies by blessing them on their special day, to show them how important and beautiful they are to God."
Ann Marie recalls Mother's Day being such a hard holiday for her. "I had no one to help my kids celebrate Mother's Day for me," she says. "It felt like any other day, not special at all. It's lonely and discouraging."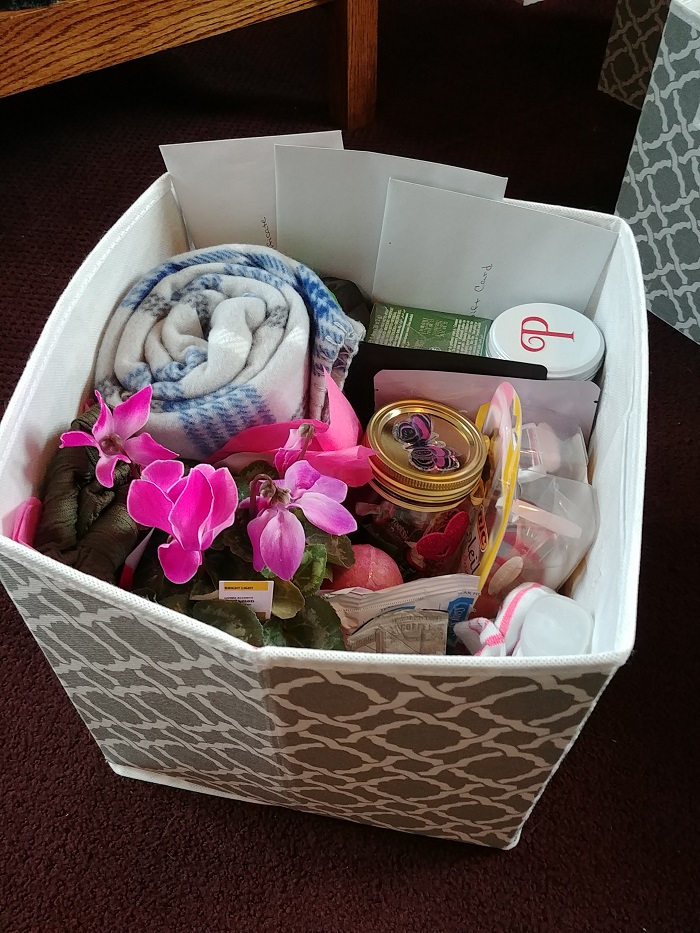 God laid it on her heart: Make a Mother's Day gift for the Jubilee Village girls. She started asking local businesses for donations and received products such as journals, nail polish, facial masks, and gift cards for manicures and haircuts. She delivered gift bags to the girls in 2018; this year she enlisted her women's small group for more donations and made the gift a little bigger. The 2019 gift boxes were given to the girls at Jubilee Village's annual Mother's Day luncheon put on by Hearts of Grace.
"It's amazing when you do something like this, God just provides," says Ann Marie. This year's present included gift cards from ZaZu and Impressions in Wheaton, as well as items such as comfy socks, manicure kits, tea, coffee, a blanket and flower. Ann Marie also wrote each girl a letter.
"I told them I've lived in their shoes, that God is the rock, and I couldn't have gotten through without Him," she says. "I told them that they're special and beautiful, and told them how important they are to God. I reminded them that God is with them every step of the way."
While the Jubilee Village girls are blessed with the gift, Ann Marie says she's the one who's blessed. "I hope the girls feel loved, supported, and special," she says. "I am so grateful to be able to give this gift. It has been my true joy."
A transitional housing program for single, formerly homeless mothers, Jubilee Village serves women between the ages of 18 and 24 and their children. The program is designed to holistically address the myriad needs of its residents, many of whom come with histories of family discord and domestic violence and without financial resources or job skills.
Hearts of Grace, the women's network of Outreach Community Ministries, consists of faith-filled women committed to helping vulnerable women and their families living in DuPage County. The Hearts of Grace mission is accomplished through financial and prayer support and acts of service for women and their families who are nurtured through the programs offered at Outreach Community Ministries.