October 13, 2017
The annual Hearts of Grace Women's Luncheon, held each fall, raises support for Outreach's Transitional Housing, Family Stabilization and Youth Development programs.
The annual Fall Dinner supports the Warrenville Youth & Family Services and is held in November.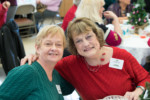 The annual Christmas Breakfasts, held over a series of Saturdays in December, are open to Outreach's Partners and Leadership Partners. Hear ministry highlights from the past year and inspiring plans for the New Year from CEO Chris Ellerman.
The Christmas Store is a special one-day event on held each December for families living near the Outreach Community Center in Carol Stream. Qualifying families can affordably shop for Christmas gifts for their children – at a savings of 75% off retail price.
Join us in celebrating the life and legacy of Dr. Martin Luther King Jr.