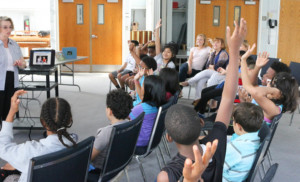 Outreach Community Center in Carol Stream hosted children's Author Mary Morgan for a book-signing and special reading with the elementary students on May 8. Mary first met with the younger students in the JNS program, where she read her book The Runaway Lawnmower. Students were mesmerized by Mary's reading and the colorful drawings. The students especially enjoyed finding the playful worm hidden on each page. Each student received a signed copy of the book along with a special note from Mary.
Mary also met with elementary students in 4th and 5th grade, where she read from her book The Face at Mt. Rushmore. Mary gave a brief lesson on the history of Mt. Rushmore and many students chimed in excitedly to share their knowledge of the historical park. Although few students have visited the park, several knew the names of the presidents depicted on the mountain and why they were selected to be honored.
Mary specializes in creating stories based on national parks, located throughout the U.S. The books Mary shared with the OCC students were selected based on reading levels. To learn more about Mary Morgan and her books, visit her website here.