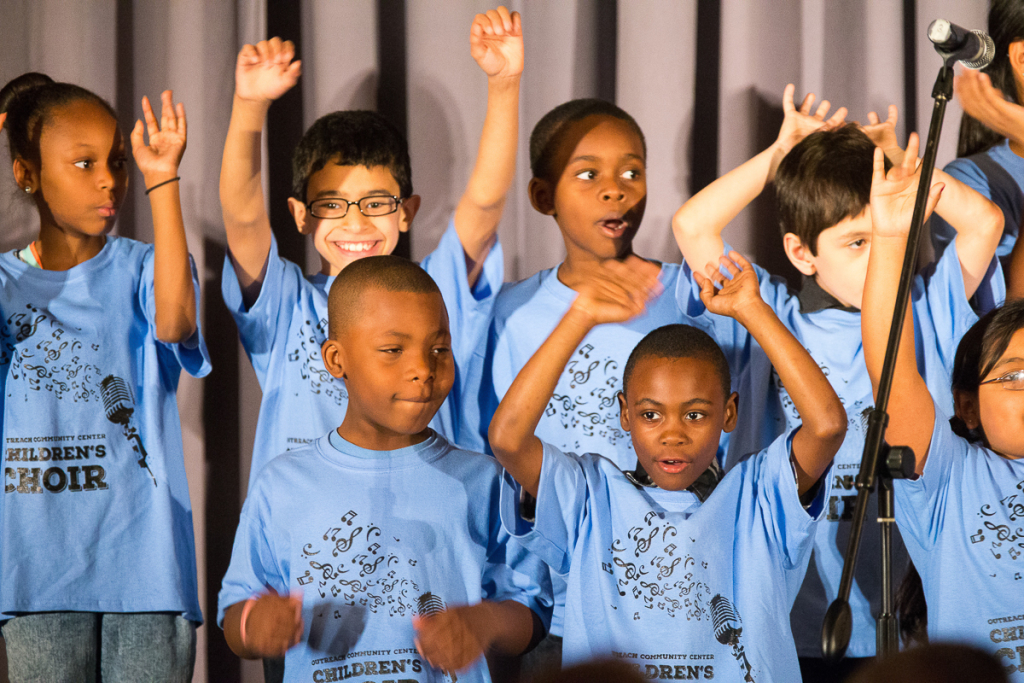 The 2015 Spring Dinner supporting Outreach Community Center in Carol Stream took place on April 23. The event featured speaker Rev. Dr. Wayne L. Gordon of Lawndale Community Church, plus the OCC children's choir and updates on the center.
The Spring Dinner is also an annual opportunity to recognize the dedication of the hundreds of volunteers who make OCC a reality. This year's dinner included the inaugural presentation of the Kathy Christensen Award, given to an extraordinary volunteer in memory of Outreach's former volunteer director. The first recipient of the Kathy Christensen Award is Dori McFarland. In addition, the Covenant Award was presented to volunteers in recognition of 5, 10, 15 and 20 years of service. Charlie Varavaro is the first volunteer to ever win the award for 20 years of continuous service. Here's the complete list of Covenant Award winners:
5 Year Covenant Award
Ted Gray, Big Buddy Program
Donald Keplinger, SALT Tutoring, Shopper Helper
Scott Kischer, Big Buddy Program
Amy Knorring, Big Buddy Program
Francisco Silva, Big Buddy Program
Karen Silva, Big Buddy Program
Ralph Gehrig, Older Adults Program
Don Kenyon, Older Adults Program
John Wheatley, Older Adults Program
Ray Peterson, Superb Students
Jan Chavat, Big Buddy Program
In remembrance of Gene Cascoigne, Older Adults Program
10 Year Covenant Award
Phyllis Bauler, Older Adults Program
Reginald Heeley, Older Adults Program
Sally Hill, Older Adults Program
Judith Leo, Older Adults Program
Dottie Mann, Older Adults Program
Allen Reed, Older Adults Program and Jubilee Neighborhood School
Mark Tader, SALT Tutoring
Fred Wayland, Older Adults Program
15 Year Covenant Award
Nancy Howser, Older Adults Program
Tania Mitton, JNS Tutoring
Debbie Page, JNS Tutoring and Child Care
Robbie Spehr, Older Adults Program
20 Year Covenant Award
Charles Varvaro, JNS Tutoring
Save the date for the 30th Annual Spring Dinner on Friday, April 29, 2016 at Drury Lane in Oakbrook Terrace. Next year's event will feature speaker Father Gregory Boyle, founder and executive director of Homeboy Industries and an acknowledged expert on gangs and intervention approaches.