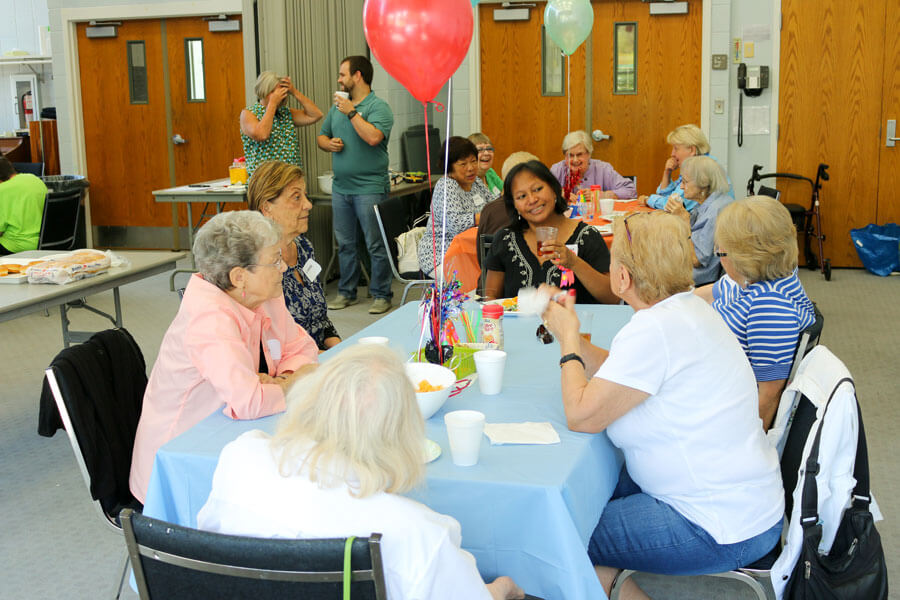 The Older Adults Program at Outreach Community Center in Carol Stream, a unique and vital program for the community, is growing. In the first six months of 2016, program staff met 29 new older adults, 25 of whom have become regularly engaged. In all, this program is on track to serve 275 individuals this year.
This program, run by Linda Hawkins and Marissa Sabio, has served older adults in southeast Carol Stream for the past 13 years with a mission to help individuals live independently for as long as possible. Through social activities, case management, a Mood and Memory Clinic and the Friendly Visitors volunteers, the Older Adult Program works to help elderly Carol Stream residents stay healthy, safe and involved in society.
"We try to spiritually, physically and intellectually engage our older adults. The main goal is to get them out of isolation and to participate in life, the world and society," Marissa says. "The older adults are not done. They still have lots that they want to do and lots that they can do."
This program provides many valuable services to older adults in the community that focus on their well-being. Linda speaks of one senior, a die-hard Cubs fan, who emigrated from Poland when she was young. Now, with age, the woman is starting to forget her English. Through the Friendly Visitors volunteer program, Outreach was able to connect this woman with a Polish-speaking volunteer who visits each week to talk and, of course, watch the Cubs game.
Another older adult woman and her Friendly Visitor connected instantly. However, the volunteer had to take a break from visiting when she became pregnant with twins. A few years later, the two reconnected. The volunteer invited the woman to her house often and the two would talk while watching the twins play. "They're not just visitors anymore, they're friends," Linda says. "They have formed a sort of family-like relationship." This strong relationship has benefitted both women in incredible ways.
Marissa shares the story of the program's first client, who is still involved today. "She is fiercely independent and particularly isolated," Marissa says. This woman, who has no family and lives on her own, rather than in a senior living home, looks forward each week to the program's bus to the grocery store. "Oftentimes, we're the only interaction she receives in a week," Marissa says. "I truly believe that we are keeping her alive."
The combination of needed services and the collaborative work of Linda, Marissa and their volunteers make this program a success. Case management includes a range of services, from helping older adults read their mail, to transporting to and assisting with doctor's visits, to connecting seniors to the social and governmental services for which that they are eligible. On the social side of the program, weekly and monthly activities are planned for these seniors, ranging from exercise classes, trips to the movie theater, art classes and bimonthly luncheons. Each activity involves different skills and appeals to different interests, but the common thread between them is the focus on building connections and providing opportunities to be social.
"The most important thing is that they get out," Marissa says. "Being socially engaged has proven to be beneficial to your mental and physical health."
One of the favorite activities for many older adults is the Wednesday bus to the grocery store. Though some might not understand the significance of this, it's important to recognize what this opportunity provides for older adults. "By taking them grocery shopping, we help them feel independent. They enjoy taking care of themselves. It empowers them," Marissa says.
As the program reaches out to more apartment managers and gains more clients, older adults are connecting and interacting with an increasing number of people in their area. "A big community among our clients has been built through this program," Linda says. This is beneficial not only in a social aspect but for the health of the older adults. Becoming friends with a neighbor ensures that one will have someone to check up on them. "They look out for each other," Marissa adds.
In many aspects of their program, such as the bimonthly Lunch & Learn, Marissa and Linda work hard to engage local churches. They hope to continue these partnerships in the future. "I believe this program falls neatly into the mission of the Church," Marissa says. "We are all, even in old age, very valuable in God's eyes."
In addition to church collaborations, the program is always looking for volunteers to help carry out the mission of the program and sustain the services that are offered. Volunteers can help with anything from preparing food for luncheons, taking clients to the doctors, planning events or participating in the Friendly Visitors program. The Friendly Visitors program pairs an older adult with a volunteer, who will visit with their older adult on a regular basis.
Marissa and Linda and all of their volunteers understand what a unique and necessary service the Older Adults Program is. "In this society, older adults are often overlooked," Marissa says. Outreach, however, disagrees. "For us, success is stabilization. Success is keeping them alive and independent," Linda says.
While Marissa and Linda both know that more funding would allow their program to be able to grow and provide more, they are grateful for what they can offer to these older adults and know that they are making a difference. "The most rewarding part of this is seeing the enjoyment on their faces," Linda says. "The smallest things bring them the most joy."