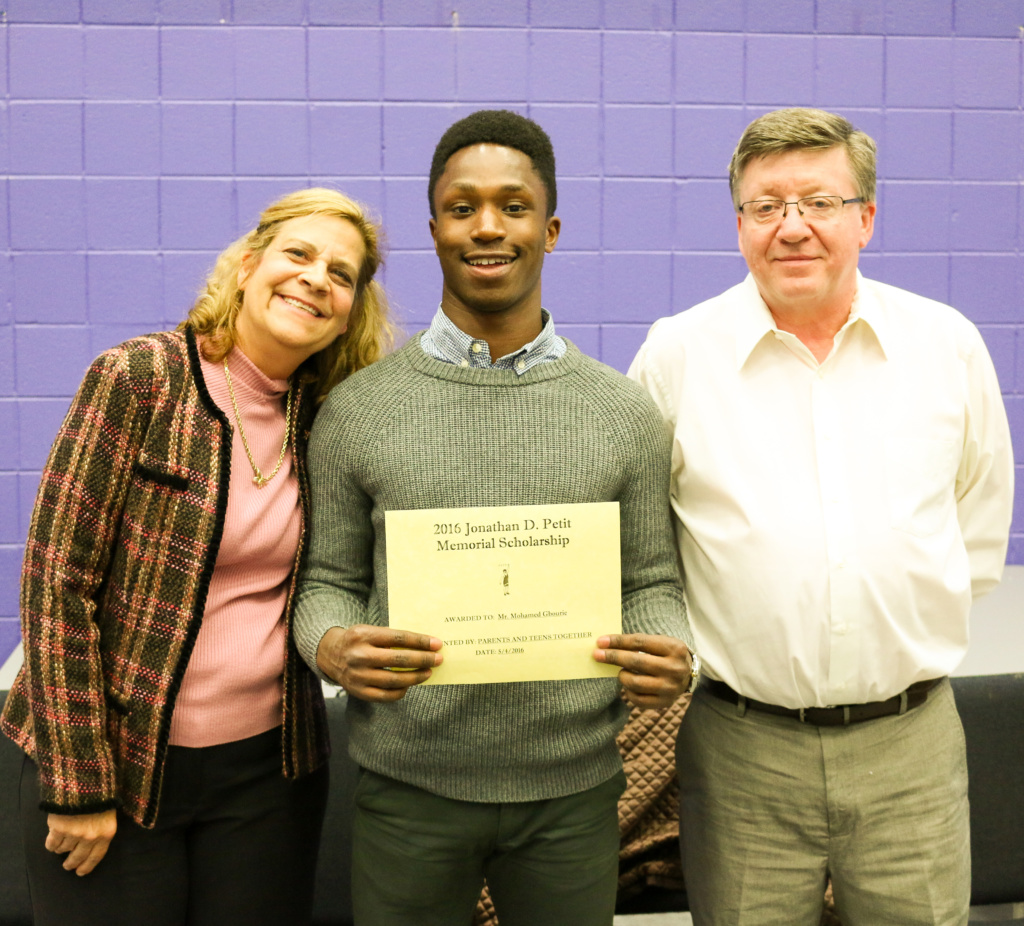 Congratulations to Mohamed Gborie, Student Achievement Leadership Team (SALT) program graduating senior, on winning the 2016 Jonathan D. Petit Memorial Scholarship! Mohamed was presented with the $1,000 award on May 4 at Outreach Community Center in Carol Stream (OCC) by Doug and Yvonne Petit. The Petits, founders of Parents and Teens Together (PATT), created the scholarship in memory of their son. This is the first year the scholarship has been awarded through OCC.
"We are beyond thrilled to award this scholarship to Mohamed!" says Yvonne. "We were also excited to have so many worthy applicants. The students are truly striving to better themselves and our community through higher education, and we love the fact that many in the high school program, like Mohamed, will be the first in their families to attend college."
Mohamed, a Glenbard West student who received the scholarship based on his track record of academic success and involvement in extracurricular activities and service projects, started attending SALT as a sophomore. Mohamed is involved in varsity track and football and the Black Students of Glenbard West. He is also a part of Target Success, which is a Big Brother/Big Sister program, as well as Habitat for Humanity. He plans to attend DePauw University in Greencastle, Indiana, this fall, where he will study political science or economics. His career goal is to work for the United Nations and help families start a new life in America.
Mohamed's goals are based on personal experience. A native of war-torn Sierra Leone, his father was killed when Mohamed was very young, then his family was captured by rebel forces and separated. They were reunited at a refugee camp, where they lived until his mother was granted an Urgent Need for Resettlement through the United Nations. When they reached the United States, they initially lived with a local host family that helped them resettle.
Mohamed says the SALT program helped him academically and taught him many life lessons. "I struggled with classes such as physics, and the program kept me on track and taught me new strategies to succeed," he says. "I also learned that being on time is important because small things like that impact your image; another lesson was to always be honest with myself and with people around me.
"I did a lot soul searching while going through the SALT program and I'm very thankful for everything I learned at Outreach," Mohamed continues. "I learned to lead and set goals for myself that I could achieve while going through the program, which was my biggest takeaway." He shared that he is incredibly honored to receive the PATT scholarship and is grateful to the Petit family.
Jonathan D. Petit Memorial Scholarship
The Jonathan D. Petit Memorial Scholarship was established by Doug and Yvonne Petit in memory of their son, Jonathan Petit, a Glenbard North sophomore who died at 16 as a result of underage drinking. Funds for the scholarship are raised through Parents and Teens Together (PATT), which the Petits created to raise awareness for underage drinking in the Carol Stream community. The organization works with village partners to spearhead preventive community-wide functions designed to provide positive alternatives to underage drinking. The Petits speak to students at area high schools through the Alliance Against Intoxicated Motorists and speak at Chicago-area parenting seminars. PATT supports local youth programs and organizes annual fundraisers to raise money for the scholarship.