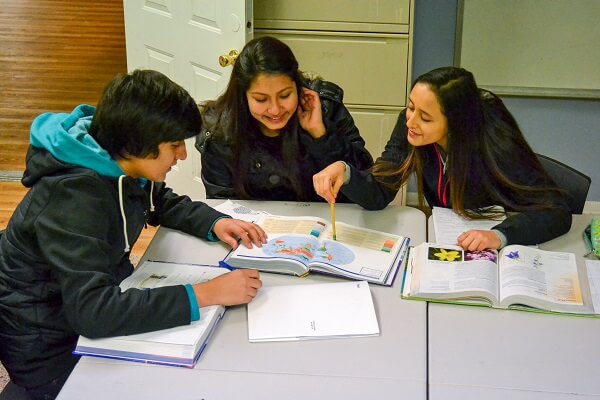 Puente del Pueblo, a joint ministry of Wheaton Bible Church, Iglesia del Pueblo and Outreach, is excited to announce the launch of its high school program. Puente previously offered youth programs for elementary and junior high students; the high school program officially kicked off in November 2014.
"Puente has been looking to expand its services to high school students in the community for some time," says Saul Flores, Puente del Pueblo High School Program Coordinator. "We're so glad to begin working with this age group and start preparing them for college."
The group meets four evenings a week for tutoring, mentoring, study time, college prep, life skills training, career discussion and opt-in attendance to youth group at Iglesia del Pueblo, Wheaton Bible Church's Hispanic Congregation.
"Many of our students need the space to do their homework," says Saul. "All of them, if they attend college, will be the first in their family to do so. The program is bringing the knowledge of college culture and the reach of such education closer to our students."
Puente staff is also excited about volunteers who are joining the program. According to Saul, the steady presence of volunteer tutors and mentors has already begun influencing the lives of students, and some professionals have volunteered to make presentations on career exploration. The program is currently in need of more tutors and mentors, as well as interns and van drivers.
Saul is passionate about helping students reach academic goals and attend college. He also knows that relationships with caring staff and volunteers can completely change a student's perspective. "Several students have already expressed their appreciation to Puente for believing in them," he says.