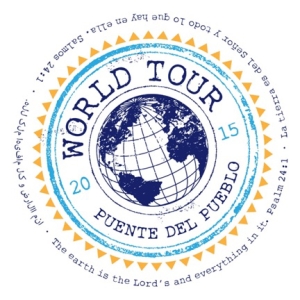 Puente del Pueblo's summer program was a great success! The theme, World Tour 2015, was based on Psalm 24:1: "The earth is the Lord's and everything in it." Throughout the summer, the group "toured" eight regions of the world via curriculum and hands-on experiences.
Classroom activities included language arts/reading, math, life skills and Christian education. Special thanks to District 33 for issuing Chromebooks and access to online educational resources to Puente for summer use.
The group was also able to go on one field trip a week, which included a Chicago Fire soccer game, local pools and zoos, and Catigny park. "Field trips kept the program exciting and exposed students to experiences they wouldn't otherwise have had," says Matthew McNiel, Director of Punte del Pueblo. "For some students, it was the first time they'd been at a pool, a waterslide or slip & slide."
According to Matthew, students reacted positively to the entire program. "Staff and volunteers reported that students learned quickly and were excited, sweet and motivated," he says. "A highlight was when one student asked if he could have a Bible because he doesn't have one at home."
The dedication of volunteers was another bright spot of the summer. Thirty-five volunteers served the elementary school students, eight volunteers served the middle school students and thirty-five additional volunteers served in fine arts, soccer and baseball camp and student Go Team. "It was encouraging to see so many new volunteers excited about Puente and ready to commit," Matthew says.