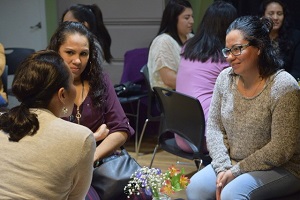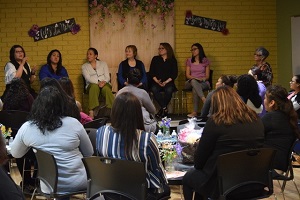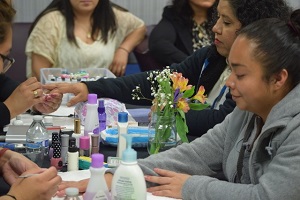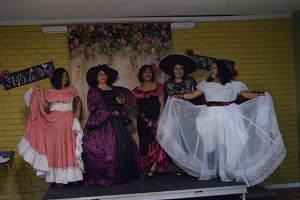 Puente del Pueblo's 9th annual Mother's Day event Puente a la Mama was a great success! This annual event reaches out to mothers in Puente's community by hosting an outreach focused celebration supported by Iglesia del Pueblo and Wheaton Bible Church women. The event is designed to attribute special value to moms who are heavy burdened and new to Puente del Pueblo; it targets mothers who raise their children amidst the challenges of long work hours, frequently in physical labor positions, without the support of an extensive family network here in the US. For some participants, their husbands are minimally involved or absent from their home life.
The event is highly sought after by women in the community because it represents a moment of time in which they experience relief from the pressures of their life and are poured into by volunteers. Puente a la Mama also meets a need for those moms for connection and friendship. This year, several neighbors who didn't know one another met for the first time!
The women of Iglesia del Pueblo go all out to make the moms who attend feel very special. They serve by offering haircuts, manicures, facials, makeup, and massage—a full spa day experience! This year, the event also featured a period dress contest.
Every year the event takes the opportunity to introduce the women to a God who cares for them and their families in a personal way. This year's panel speakers brought a message of hope and God's presence in the lives of mothers. The follow up discussion with Iglesia del Pueblo small group leaders deeply engaged the participants. It was highly personal and powerfully invitational; Irene Owens, Puente del Pueblo case manager, could barely get them to stop talking!
Puente del Pueblo, a ministry of Wheaton Bible Church and Iglesia del Pueblo, works in West Chicago to foster change that benefit residents' personal, family and community lives. Outreach serves at Puente on behalf of Wheaton Bible Church, providing consultation, management and community services. In 2012, city officials asked Puente to take over its youth service system and expand its after-school and summer-school youth programs to more complexes in West Chicago. Today, Puente is offering programming at Main Park Apartments and continuing to expand at Timber Lake Apartments.