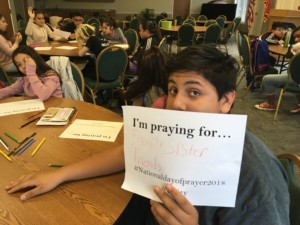 Quest, the Warrenville Youth & Family Services (WYFS) youth program, celebrated the National Day of Prayer on Thursday, May 3rd. This year's theme was "Unity" and Ephesians 4:3-3: "Make every effort to keep the unity of the Spirit through the bond of peace." Students processed how they can promote peace and preserve unity in their own lives.
"Students were eager to share their prayer requests with one another," said Leslee Cremer, youth services director at WYFS.
The students also participated in a discussion, where they shared the power of prayer as well as their own prayer requests. Prayer request themes included: family, friends, those who are disenfranchised (homeless and hungry in particular), racism and poverty, and those in other countries (particularly Mexico).
Quest provides a structured and safe environment for junior high and early senior high youth who are at risk. Meeting after school and during the summer, Quest includes academic coaching, life skills training, recreation and community service projects.