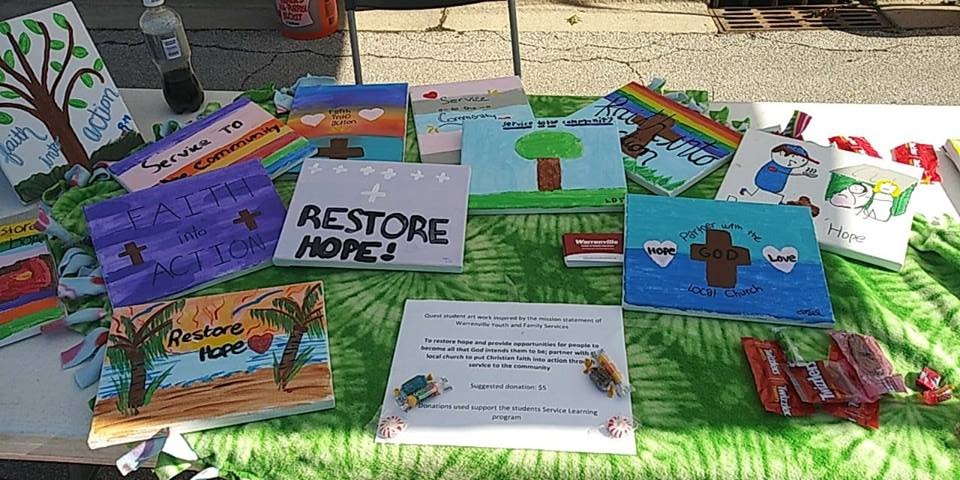 Students from the Warrenville Youth & Family Services Quest program have been integrating art, mission and community! As part of their service learning curriculum, students were tasked with making two pieces of canvas artwork with a different piece of Outreach's mission statement: Restore hope, provide opportunities, partner with the local church, faith into action and service to the community. They then entered their art in Warrenville's annual Art on the Prairie festival, which is a celebration of Warrenville's artistic heritage and continued pursuit of art of all kinds. The event, which features a juried fine art festival and craft show with jewelry, ceramics, paintings and photography, took place on September 15.
Quest Teacher Beth O'Connor said the kids really wanted to do their best and were proud to show off their finished product.
"I really enjoyed the experience," said one student. "It was challenging to come up with a picture that represented the mission statement, but I really liked having the opportunity to express myself." She shared how she had the same statement as her friend, but each had different perspectives and artistic interpretations about what it meant.
Another student loved that the project let her creative side "run wild." "I liked having the freedom to create whatever artwork I wanted as long as it had to do with the prompts given," she said. She also liked thinking about the mission statement, especially how faith can connect people to the community through service.
Beth loved seeing the kids come together to take part in the project. "I could feel a sense of pride from each student as they showed me their artwork," she said. "It was an important learning experience for them because it highlights that they do have a voice in their community, and what they have to say is important."
The Quest youth program provides a structured and safe environment for junior high and early senior high youth who are at risk in the greater Warrenville area. Meeting after school and during the summer, Quest includes academic coaching, life skills training, recreation and community service projects.