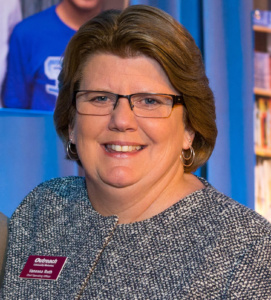 Congratulations to Vanessa Roth, chief operating officer, on 25 years of service at Outreach Community Ministries!
Vanessa has held various roles at Outreach since March 1991, when she started as community development coordinator at Outreach Community Center in Carol Stream (OCC). In June 1994, she was promoted to director at Wheaton Youth Outreach (WYO), where she managed Outreach's transitional housing program, WYO counseling services and the 24-hour crisis response system for runaways.
In June 1997, she returned to OCC as executive director of the site. There, she developed and led 15 separate programs, including youth development for first grade through college, case management services, the older adults program and community development. She also supervised more than 20 full- and part-time staff and more than 200 volunteers.
In 2010, Vanessa took the reins as Outreach's first chief operating officer, in which she oversees all of Outreach's sites and programs, managing day-to-day operations at 10+ locations and 20+ programs. In addition, Vanessa supervises the human resources, volunteer services and grant management departments.
During her tenure at Outreach, she has helped launch two new services sites and several new programs. She has also been the team lead and community coordinator around two major crises in which children and families were stabilized and re-housed after being displaced from their homes.
Colleagues and friends sing her accolades. Mark Taylor, secretary of the Outreach Board of Trustees, says, "Vanessa has invested directly and indirectly in the lives of thousands of students, parents, clients, partners and staff. She understands the nuances of social work to a degree far beyond most of the rest of us."
Sarah Bradley, OCC board member, agrees. "Vanessa always has time for people. Even when work demands are heavy, she always asks how your family is doing or what is going on in your life. She is a treasured friend and I am a better person to have been mentored by Vanessa."
"Vanessa is hard working and committed to Outreach's mission," adds Matthew McNiel, director of Puente del Pueblo. "She is always calling the team to a high standard of excellence, and she's been the glue that has held Outreach's operations together for many years. Her leadership has been the most significant professional training force in my life."
LaTanya Gatewood, Outreach director of volunteer services, appreciates Vanessa's ability to help others grow in their strengths. "She identifies what you are good at and helps you to be great in those areas," she says. "My skill set and my comfort level have been stretched and I am grateful for Vanessa's gifting to push me into growth."
Vanessa was recognized for her 25 years of service at Outreach's all-staff meeting in April 2016.