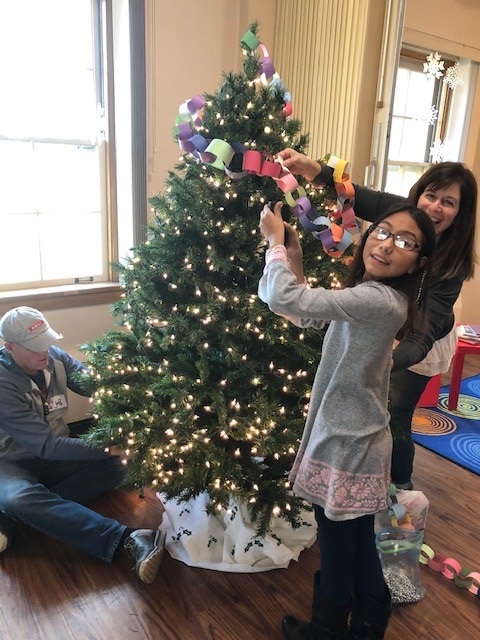 York Community Resource Center spent time sharing Christmas kindness with the community! The center held a Christmas event on December 8 that included tree decorating, Christmas crafts and gift wrapping.
Lathie Norton, York site director, says the event brought joy to students and families. "One of the moms who came to get gifts wrapped said to me, 'Oh my goodness, you don't even understand; this was so stressful for me last year. This is amazing!' and another one stood in shock as she looked at her gifts all wrapped, saying, 'Oh wow … this is beautiful. Please tell them THANK YOU!'"
On Monday when students returned to the after school program, the hallway was filled with "ooo"s and "aaaaah"s as the children walked through the newly-decorated entryway. One of the students who couldn't attend the Saturday event stood at the classroom door with his mouth open and eyes wide as he saw the lit up Christmas tree and said, "I cannot even enter! It is too amazing!"
"We have also heard that the little siblings who came to the event are already announcing that they want to come to the Resource Center!" adds Lathie. "We are so thankful to our volunteers for making this such a joyous and welcoming day for our children and parents."
York Community Resource Center youth programs for elementary and junior high students combine academic performance, recreation and life skills activities. Academic assistance gives students the educational foundation they need and life skills classes teach students decision-making strategies, the importance of self-control, effective strategies for resolving conflict and how to succeed in life. Students also take part in community service projects.