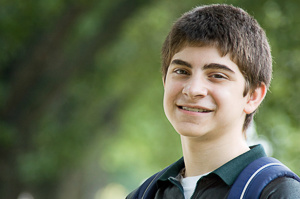 When Kimmerly Buchholz, Wheaton Youth Outreach Youth & Family Therapist, began meeting with a middle school special education student named Peter,* he struggled with his social skills and couldn't control his anger. "Peter moved to the area in 6th grade, and went from a very intense self-contained special education classroom to a local middle school," says Kimmerly. "He was often very impulsive in his reactions. When I started meeting with him, we immediately began working on self-regulation of emotions."
But the initial goal was just to build a relationship. "By meeting weekly, usually playing card games, Peter became more comfortable and was able to learn and practice social skills," says Kimmerly. They worked on remembering past conversations with people, friendly teasing about football teams to show he was paying attention to those conversations, accepting Uno losses and shaking hands after a game, etc. "Though he would still sometimes struggle with relating to others, he became very comfortable in the school and with his support system," she says.
Over the course of a year, Peter kept struggling at times, but he also showed growth. He tried to join the basketball team in 7th grade but had poor sportsmanship and didn't make the team; in 8th grade, he joined a football league and thrived. "Tackling was a healthy way to cope with his anger, and Peter responded well to counseling examples related to football," she says. "He made friends with his teammates and was even asked to represent the team in a local kicking and punting competition. It brought Peter great pride to be recognized for something positive rather than for his negative behaviors.
"His ability to regulate his emotions improved, as well as his social skills," adds Kimmerly. "Peter was able to laugh off a card game loss rather than throw the cards like he might have when we first began meeting." But one of his greatest successes, she says, has been becoming gradually mainstreamed into regular education classrooms, where he's thrived with typical expectations.
Kimmerly, Peter, and Peter's mom recently agreed to end counseling sessions, but Kimmerly hopes they will contact her if they ever need additional support in the future. "This is a good example of a longer-term, positive relationship with a client that has led to growth in managing his emotions and his coping skills," she says. "It's also led to another great partnership with a school in our community."
*Name changed