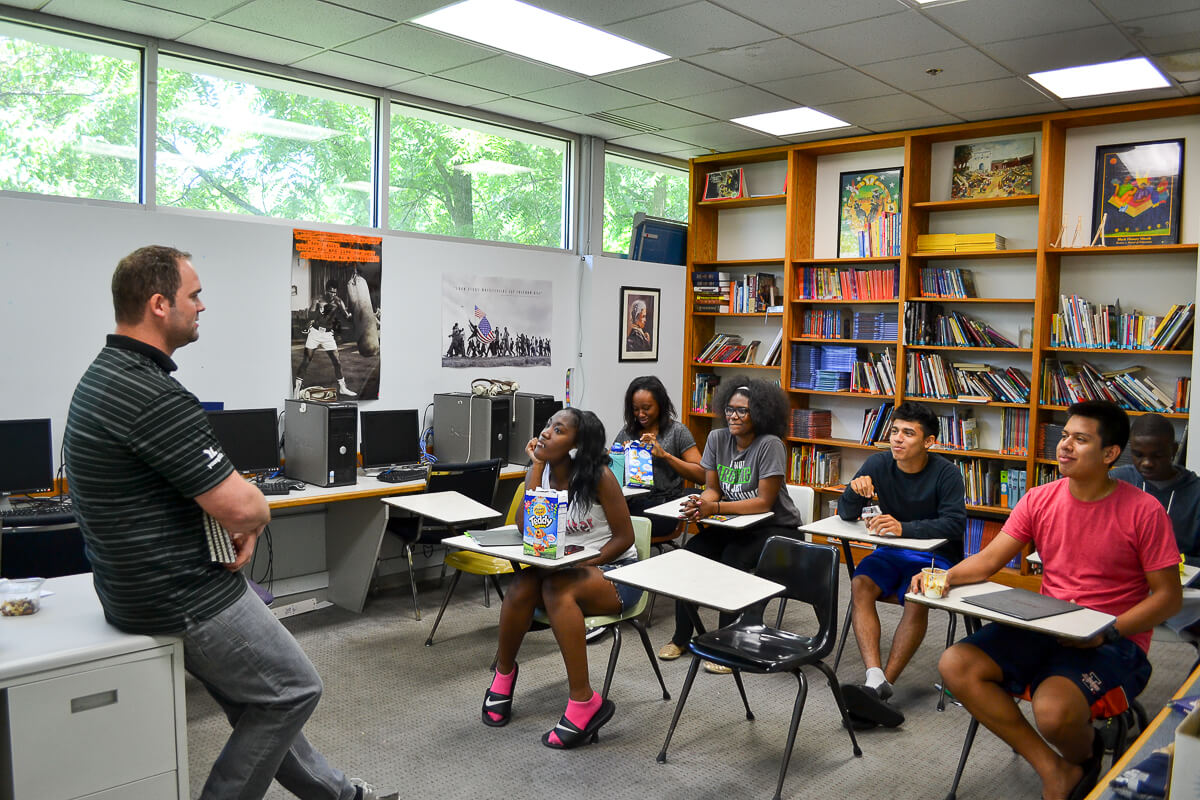 School may not be in session yet, but College Opportunity Program students have been learning on the job and in the classroom all summer long! Here are a few highlights:
SALT (Student Achievement Leadership Program):
High school students packed meals at Feed My Starving Children. The group of five students packed enough meals to feed 92 children for an entire year, and the meals will go directly to Haiti.
The 16-18 year old students engaged in two hours of academic class and two hours of job class each Monday. The rest of the week, they worked at different worksites. Jeremy McDowell, youth employment and education instructor, helped rising seniors work on their writing skills by completing personal statements that can be used for their college applications and scholarship applications. Students completed timelines from their lives and shared them with the class, which served as a brainstorming activity to help students think of good stories for their personal statements.
Heather Hernandez, OCM Human Resources Director, presented on "Confidence in the Workplace" to graduated seniors during their job class. As a guest speaker, Heather involved the students in her presentation by sharing examples from workplace situations. After the presentation, students shared that they would use her suggestions to build confidence while working this summer.
Connie Tintera, High School Education and Employment Instructor, gave a presentation entitled "Getting to Know Your College Professor." Connie's experience as a professor at Loyola University helped students understand what college educators will expect of students when the incoming freshmen matriculate this fall. A particularly helpful activity was showing the students what a college syllabus looks like for the first time.
Sophomore Norberto Lopez was a teacher's aide in the elementary summer school program at Outreach Community Center in Carol Stream (OCC). "We've seen him really blossom," says Gigi Nyesoah, College Opportunity Program Coordinator. "He was hesitant to work with kids at first and started by just observing, but now he leads activities with confidence and it's apparent he enjoys his job and working with the kids. We are very proud of the work that Norberto is doing."
High school student Serena Mitchell worked as an assistant to the SALT staff this summer. "Her work ethic and initiative have blown all of us away," says Gigi. " If you ask her to clean out the microwave, she will clean the whole kitchen. While she's waiting for her next task, she will see something that needs to be cleaned or organized and do it. She goes around to different staff members and asks how she can help them. Many staff members outside of our program have commented about how great she is. We are quite proud of her."
College Scholarship Program:
Jessica Beamon, an incoming college junior at Hamline University in St. Paul, Minnesota, obtained a pharmacy internship at Presbyterian College in South Carolina. For eight weeks, she worked alongside a professor on a research project titled, "Development of Methods for the Extraction and Analysis of Vinlastine, Losartan, and Citalopram from Tissue Culture Cells." From this experience, Jessica learned that she enjoyed research and that she may want to attend Presbyterian College for pharmacy school.
Amy Halder, who will graduate from UIC in spring 2016, recently took the MCAT. She prepared all semester and then studied eight hours a day after the semester ended, often coming to OCC to have quiet space to study. She has also been working on her medical school applications.
Phillip McClure, who is scheduled to graduate from Duke in Spring 2016, has been working at a marketing internship with Microsoft in Seattle.
Terry Moore has been doing an internship at Emory University in Atlanta this summer. He's set to graduate from Eastern Illinois University in December 2015.