For many kids, summer is a long-awaited season full of fun, warm weather and outdoor activities. However, this three-month break from school can come at a price, especially for a student's reading skills. Come fall, many students return to school with lower reading skills than they left with in the spring, losing important progress and setting them far behind for their grade level. This summer setback can be especially detrimental for children who are vulnerable, as a family's socioeconomic status has been linked to a child's access to books and read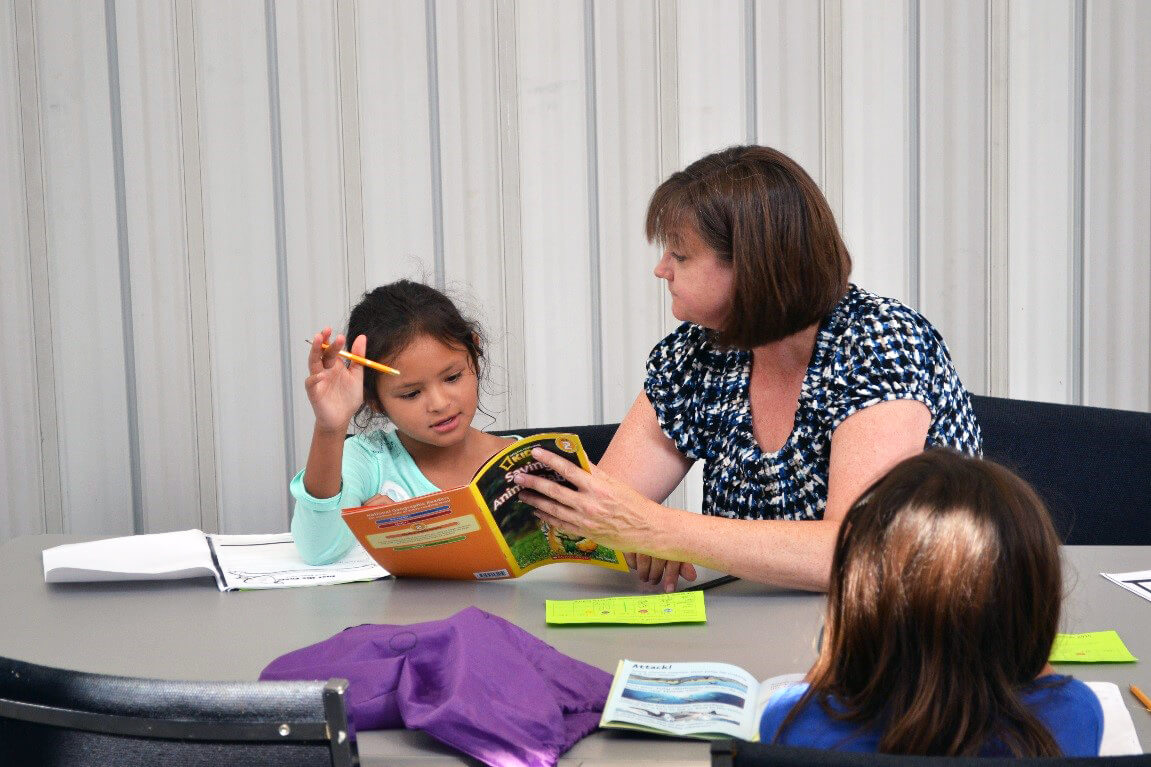 ing proficiency.
Gail Kramer, an English Learner Teacher, recognized this issue and became involved in Washington Elementary School's summer reading program. When she later transferred to Carl Sandburg Elementary School, she started a similar program there. For the past 10 years, Washington's, and more recently, Sandburg's programs have collaborated with Outreach Community Center in Carol Stream, using their facilities to host this important program throughout the summer.
"Our goal is to help students maintain or increase their reading level over the summer," Gail said. "So many students don't pick up a book over the summer. This program provides them with books and reading help, and makes parents more aware of the importance of reading."
The program meets every Wednesday for five to six weeks over the summer. Elementary students who are recommended by their teachers attend the program, where they meet with various teachers from their school who have volunteered to spend a few hours helping students with their reading.
Students are incentivized to attend the program for its entirety, with good attendance leading to the opportunity to attend a field trip in the fall to the Chicago Botanic Garden.
Every week, students come prepared with a summary of a book they read during the previous week. After going over the summary with a teacher, they choose a new book to read with one of the teachers. As they read, the teacher helps them with comprehension and fluency by asking questions about the story and guiding students when they get stuck on difficult words. Students then fill out a worksheet to further their reading comprehension. As they leave, each student gets to choose a book to take home. By the end of the program, students receive eight to ten books that are theirs to keep.
To Gail, providing these students with quality, grade-appropriate books is one of the most important aspects of this program.
"A lot of the students don't have books at home, or aren't able to receive a lot of reading support at home," Gail said. "In order to practice reading, these kids need books. So ultimately, we want to get books into the hands of students."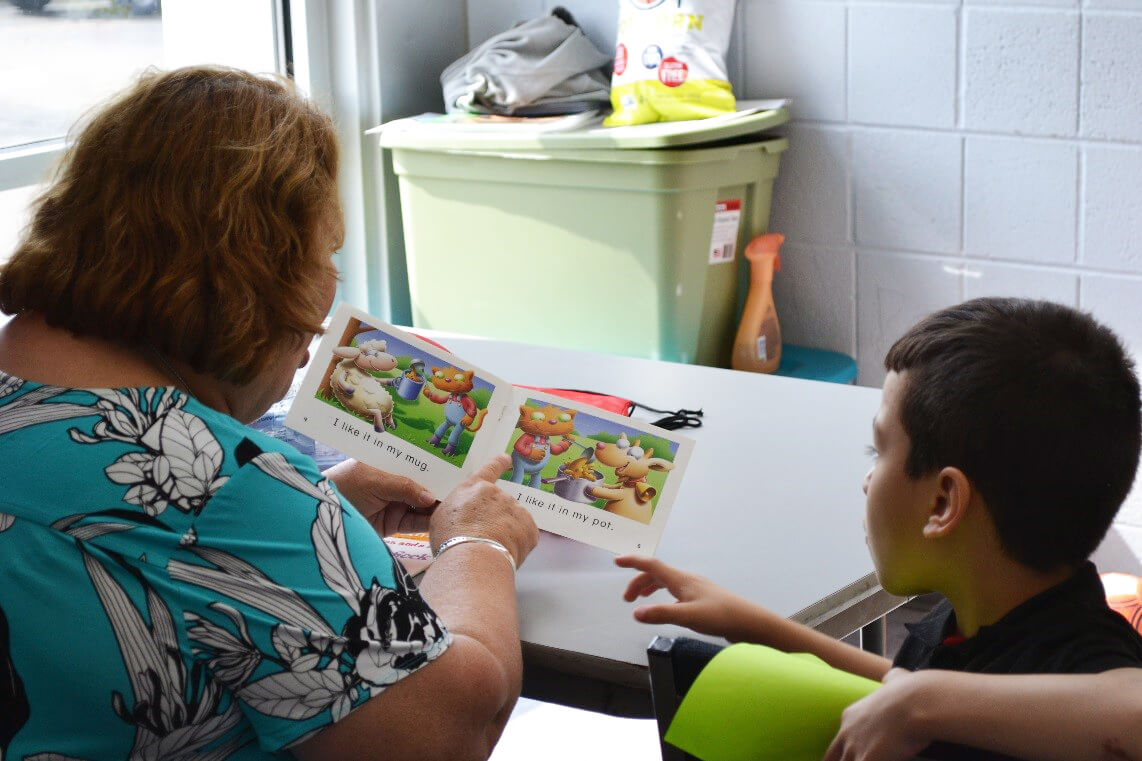 Unfortunately, finding new or very gently used books to give to these students is not always an easy task. Gail gets most of the books for the reading program at School & Community Assistance for Recycling and Composting Education (SCARCE) in Glen Ellyn, but she hopes to receive grant money so that she can purchase new, current grade-appropriate books for these struggling readers.
The partnership with OCC has greatly enhanced the accessibility of this program. Many of the participants live in the neighborhood surrounding OCC, so they can safely walk to and from the program. Additionally, many of the reading program students are part of OCC's summer youth programming, and the two programs have coordinated schedules so students seamlessly transition from their OCC experience to the reading class each week.
"The reading program is a perfect complement to our summer elementary program," says Mary Lundeen, OCC's elementary program coordinator. "While we work on educational goals in a classroom setting with students over the summer months, this one-on-one time with the students' teachers allows their reading skills to flourish."
The significance of this reading program is clear when considering the community that it benefits.
"This program is so important because, in both Carl Sandburg and Washington Elementary Schools, one-third of the students are low-income. Many of these students' parents work one or two jobs, and reading support may not be available at home. Especially if these students' parents don't know English, the students need extra help. They need to be able to read in English," Gail said. "An intervention is needed, and there aren't a lot available. Our program takes this initiative."
According to the teachers, many of the students struggle with reading but are embarrassed to ask for help. Gail tells of one student, Monse, who had been recommended by her teacher for the reading program but initially hid the permission slip from her parents, not wanting to admit that she struggled with reading.
"I didn't want to do this program at first, but now I like it," Monse said. "I love that I get more time with my teachers."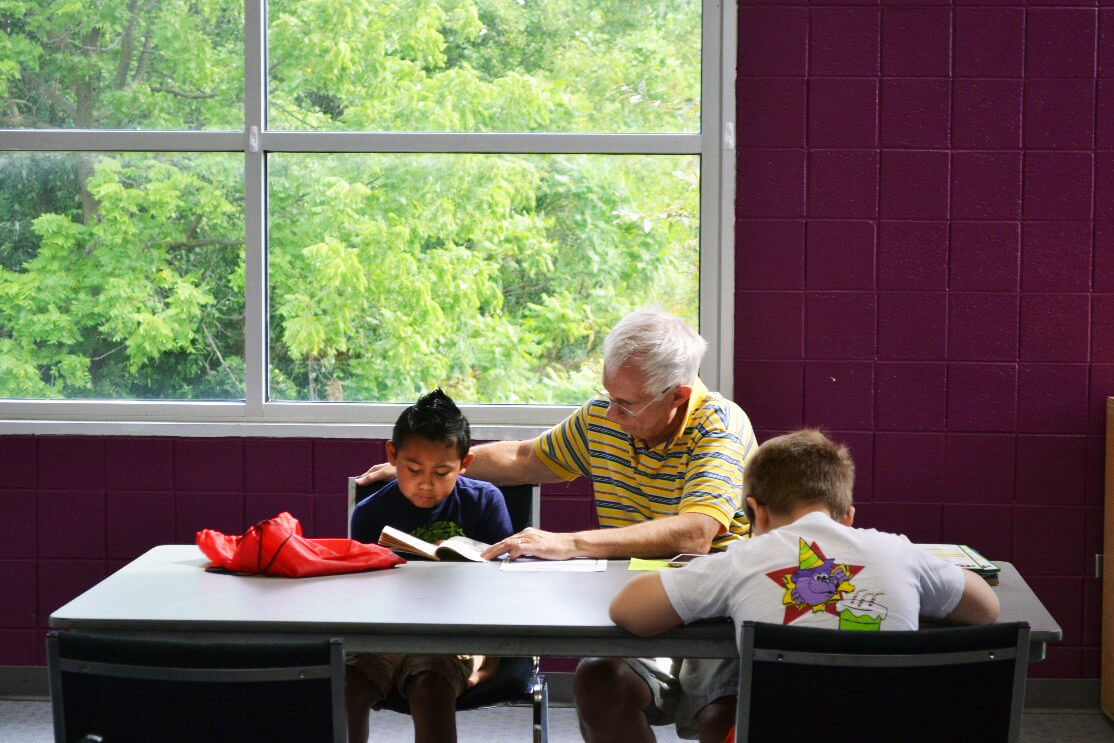 "The program has helped Monse, who is shy, increase her self-confidence and enjoyment of reading, as she was able to interact in a casual setting with teachers and select her own books to read and keep," Gail said.
Mary shares that through the reading program, she's watched students grow into confident readers. "We are so grateful for our on-going partnership with teachers at both Washington and Sandburg schools—which carries into the school year as we work together to help our students achieve excellence and reach their God-given potential."
By working one-on-one with teachers they know and by being in a comfortable environment, students are able to learn effectively in a judgement-free environment—and put a stop to the summer setback.