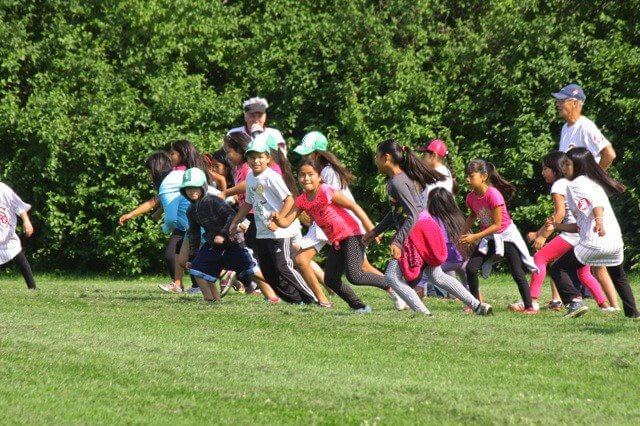 Summer is just around the corner! Outreach is gearing up for summer programs across its sites.
At Outreach Community Center in Carol Stream (OCC), the theme will be "Ignite: Carry the Torch," which will connect students to the summer Olympics in Rio de Janeiro. The elementary program will focus on math and reading in the morning and summer fun in the afternoon, including swimming, special interest classes, group projects and "Fun Mondays." In addition, Sandburg and Washington Elementary Schools will run a reading program on Wednesdays.
According to Mary Lundeen, elementary program coordinator, a reading teacher will work in small groups with students who need to stay on track over the summer. "Currently almost 60 percent of our 1st through 3rd graders are either English language learners or have an IEP for reading support," says Mary. "Having a reading teacher this summer will reach the students who need to continue using the skills they have learned this school year."
During "God Time," students will memorize Bible verses and hear lessons about renewing their minds (Rom. 12:22), having a joyful theme in their hearts (Ps. 45:1) and serving God with heir hands (Eccl. 9:10).
In the OCC junior high program, the primary focus will be celebrating diversity. "In our cooking class, also known as world cuisine, students will be introduced to various ethnic recipes," says Chantel Gamboa, junior high program coordinator. "Students will also be introduced to food safety and cooking techniques, as well as the importance of nutrition and exercise."
During language arts, students will read "Outcasts United: The Story of a Refugee Soccer Team" by Warren St. John, which tells the story of a soccer team made up of refugees from around the world. Students will also participate in a world games class where they will learn to play games from around the world.
On July 8, OCC will be sponsoring Sports Day at Community Park in Carol Stream for neighborhood resource centers across DuPage County who have students entering 5th – 8th grades. "Activities will consist of volleyball, soccer and basketball, and we are expecting up to 300 students to participate," says Chantel.
At Warrenville Youth & Family Services, the Quest program summer theme is "Q vs. Z" (Z for zombies). "We picked this theme for a couple reasons," explains Angela Mains, WYFS director. "First, a guest speaker for our life skills component will discuss 'the zombie generation.' The second reason is based on John 10:10: 'But I have come to give you life and life in abundance.' We will contrast the abundant life that God gives with an empty 'zombie' life without him."
Summer Quest will focus on service learning by volunteering at Northern Illinois Food Bank, Feed My Starving Children, Fermilab and a Warrenville elementary school. Students will also join the OCC junior high program for Sports Day. Other highlights include U of I students visiting to teach cooking and science and taking a field trip to the Money Museum in downtown Chicago.
At Puente del Pueblo, the theme is "True Story." The summer program meets at Wheaton Bible Church and McCaslin Park, and bus service is provided to students living in Timberlake and Main Park apartments in West Chicago. Activities will include academic review, fun extracurricular activities and life skills. Matthew McNiel, Director of Punte del Pueblo, hopes to build relationships and unify students from Puente's two different sites.
Another highlight each summer for the 40 OCC and WYFS students is the opportunity to attend Lake Geneva Youth Camp for one week. The camp, located in Wisconsin, offers Outreach students a week of fun, exploring and learning about the God who loves them unconditionally. Campers share stories about their experiences for years to come.