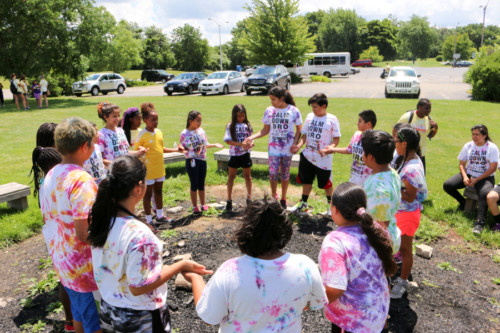 Summer's here! Summer youth programs kicked off on June 19. Thanks to Outreach, students engage in programs that provide fun summer activities, academic and service emphasis, a safe environment and free child care to benefit vulnerable families. Take a peek at the fun and learning that's planned across Outreach's sites:
At Outreach Community Center in Carol Stream (OCC) and OCC Villagebrook, the theme is "Allegiant #FearlessLiving." The Christian education program will focus on Bible characters who showed great faith, even in the face of fear, such as King David and Stephen, the first martyr.
The elementary program will focus on math and reading in the morning and summer fun in the afternoon, including swimming, special interest classes, group projects and "Fun Monday" stations. In addition, Sandburg and Washington Elementary Schools will be hosting their yearly reading program on Wednesday afternoon after program ends. Becca Thompson, Interim Jubilee Neighborhood School (JNS) elementary program coordinator, says, "We're excited to see the kids again, help them academically, teach them about God's love and have tons of fun!"
In the OCC junior high program, Learn 2 Earn, students will focus on academic retention, job readiness and community service. Weekly academic classes include math, language arts, nutrition, recreation, Christian education, life skills and finance.
To build job readiness skills, students will participate in weekly community service projects through Marklund Children's Home, People Resource Center, Lincoln Marsh, DuPage Care Center, Northern Food Bank, Feed My Starving Children, Colony Park and Little Angels. These projects will be coupled with an entrepreneurship class through junior achievement.
Other activities include the D.A.R.E and G.R.E.A.T programs offered through the Carol Stream Police Department and field trips to DuPage Historical Society, Cantigny, Water Works indoor water park in Schaumburg, Discovery Museum in Rockford, Graue Mill and Artastic arts and crafts studio.
At Warrenville Youth & Family Services, the Quest program summer theme is "Super Hero Bootcamp: Unlocking the Hero Within." As part of the theme, students will be doing a research project on the different cultures in Warrenville/DuPage county. "They will learn all about the culture and look more into the 'super hero' of that culture," says Alicia Sremaniak, Quest lead teacher. "Then they will give a presentation to the rest of the group regarding their culture/country and their super hero."
Life skills activities include a money management program in which students learn more about savings, partnering with Family Shelter Services to learn more about safe relationships, organizing a summer fundraiser, daily teambuilding, and focusing on conflict resolution and anger management. Students will also attend field trips to places such as the pool, zoo and forest preserve.
A new element this year, says Alicia, is that student leaders will be matched with a mentor. "The mentors will be working alongside the leaders, helping them overcome any issues they might face, while also encouraging them to improve their leadership," she says. "Each leader will go through training once a week and will then try out the news skills they have learned within small groups."
Puente del Pueblo's summer program meets at Wheaton Bible Church and McCaslin Park, and bus service is provided to students living in Timberlake and Main Park apartments in West Chicago. Activities will include academic review, fun extracurricular activities and life skills. Matthew McNiel, Director of Punte del Pueblo, hopes to build relationships and unify students from Puente's two different sites.
At York Community Resource Center, the theme is "Be the Change." Lathie Norton, York site director, says, "We are focusing on helping students make a positive impact in the world around them with weekly themes such as 'Be Welcoming' and 'Be a Problem Solver'!"
Daily programming for elementary and junior high will involve academic enrichment activities, life skills, art and other club activities. Other highlights will include visits from the local library for participation in a summer reading program; "Expert Hour," in which volunteers with interesting jobs share demonstrations with students; and weekly trips to the pool, local parks and other off-site field trips.