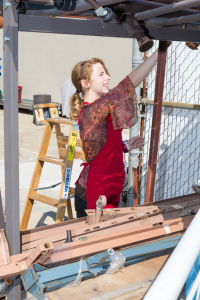 The pilot phase of the Employment Opportunity Center is well underway with its second cohort of participants. This new venture has proved to be a learning process for both the young adults and Outreach.
According to Ruben Munoz, Job Coach/Teacher at the Employment Opportunity Center, helping vulnerable young adults find employment is often a multi-step process. As of May 31, 2015, 11 participants have entered the program: five were homeless and two had no high school diploma. "As a staff we help the participants any way we can to make sure they succeed," he says. "We try to find them housing and child care, if needed, and set them up to take GED courses if they have not completed high school."
The program also helps participants find transportation, a crucial element of holding down a full-time job. "So far, two women have received donated cars—one from Jubilee Cars and one from Naperville Cares," says Reuben. "Both young women have since found permanent employment." One additional participant is currently looking for a full-time position in an office setting and is on the list to receive a car, as well.
EOC staff are currently recruiting for their next cohort of students. "We are talking to high schools, apartment complex managers and other social service organizations that might be able to refer young adults that need this program," he says. As soon as they have enough students for the next cohort, they will begin their job class.
In the meantime, three new participants are learning new skills by working at Jubilee Furniture in various roles in the warehouse or in sales. One participant, Mari, has moved onto an internship with one of Outreach's corporate partners. "We helped her get childcare for her two girls and are in the process of finding her an apartment," says Ruben. "Mari has expressed her gratitude for Outreach and this program many times."