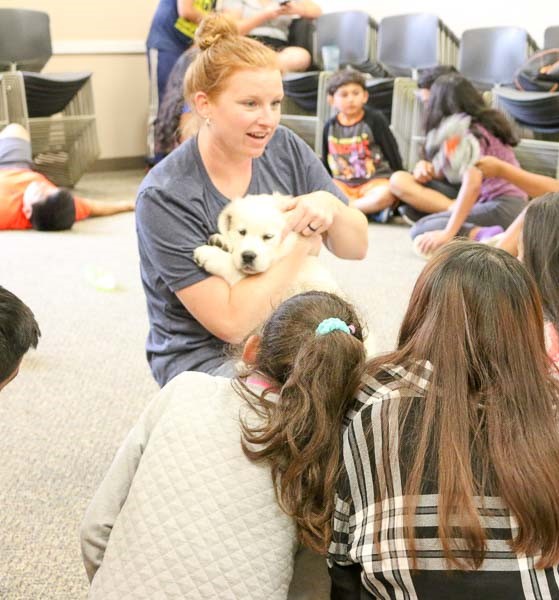 Thanks to a local friend of Warrenville Youth & Family Services (WYFS), Quest students were recently treated to some puppy love! Amy Miller, reading teacher at Johnson Elementary School in Warrenville and volunteer therapy dog trainer, recently visited the summer youth program with her training dog Gunnar.
"Gunnar is not a certified therapy dog yet; I wanted to involve the Quest students in his journey to becoming an AAT (Animal Assisted Therapy) dog," says Amy. "I wanted their help to socialize Gunnar and to help him practice basic commands. I also wanted to educate the students about dog behavior and being comfortable around dogs."
Besides teaching kids how pets should be treated and cared for, Amy's goal was to introduce students to AAT and other alternative forms of therapy. "I want students to understand that if they are looking for ways to feel better or cope with hardships in their life, there are many forms of therapy that can help!" she says.
Amy, who has a long-standing relationship with WYFS, was particularly excited to visit the Quest program. As a former intern with Quest and current liason between Johnson School and Quest, she has a special place in her heart for WYFS. "I was honored to visit the Quest program with Gunnar. As a teacher at Johnson, I've watched the students grow and change over the years—the Quest students are essentially my students!
"Because I've known these students most of their lives, I trust them," she continues. "Hopefully they trust me. That trust is the basis for a pretty cool adventure towards Animal Assisted Therapy for the students, myself and Gunnar!"
According the students, the feeling is mutual. "Seeing Mrs. Miller and Gunnar was awesome!" says one Quest student, Cris, age 15. "Gunnar was meant to be a therapy dog. Once he came into the building, I saw all the kids feel good and happy."
Jade, age 13, said,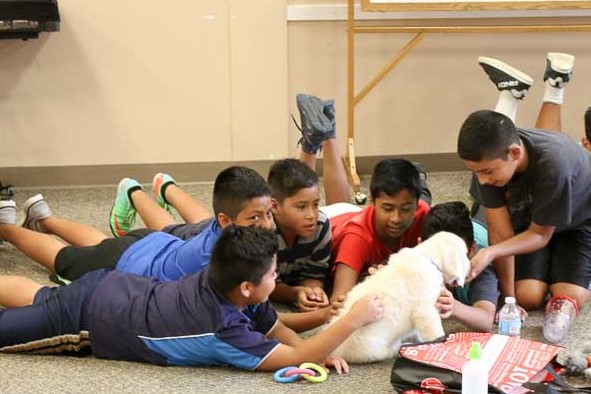 "Gunnar and Mrs. Miller are so cool. It was fun and exciting to meet Gunnar the therapy puppy! Gunnar is so cute!"
Grace Harrington, Quest teacher, is thankful for Amy's role in the relationship between Quest and Johnson School. "Amy coming in with the service-puppy-in-training is just another example of how we work together to support and enrich our students," she says. "The kids feel really supported and cared for at Johnson and at Quest, so it was fun to have those two spheres of their lives together in one room."