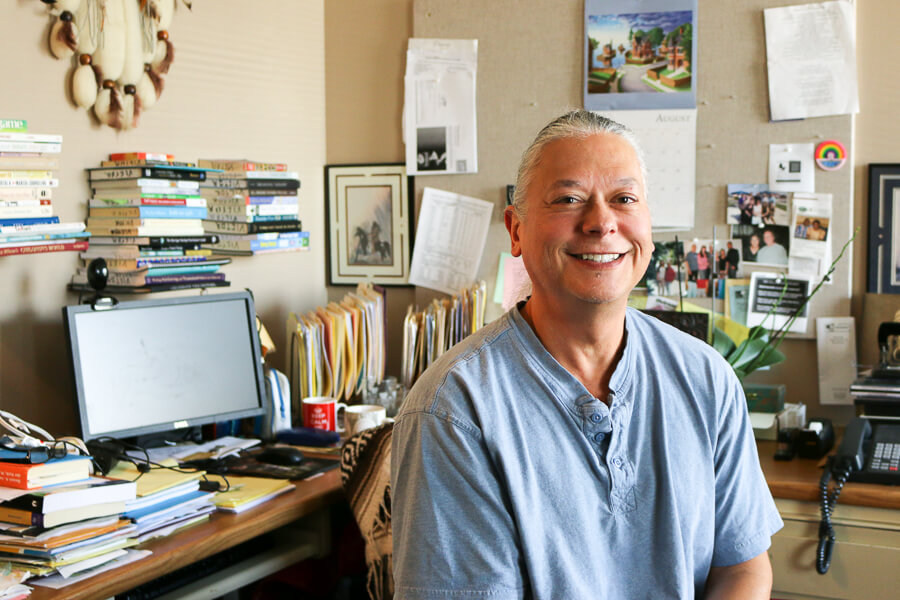 For Victor Argo, no day is exactly the same. As program director for Outreach Community Counseling Center in Carol Stream, Victor takes on responsibilities ranging from supervising the center's many interns to meeting with clients.
Victor started at the center as an intern in 1988 and has continued to work diligently there ever since. Now, it's Victor who is supervising the master's interns, walking side-by-side with these students as they grow in ability and confidence.
Every Tuesday from 2:30 p.m. to 10 p.m., Victor and the interns participate in live supervision. During this time, an intern will meet with a client while the rest of the group is able to observe through a one-way mirror. Throughout the session, Victor is able to call into the room and offer the intern suggestions. The interns are also able to observe Victor's session with a client. At the end of the night, the whole group comes to together to discuss their own sessions and observations of each other's interactions. This intense, hands-on training allows interns to develop professional skills quickly and confidently and allows clients to obtain outstanding service.
Working with interns is one of the biggest parts of Victor's job and he feels truly inspired as he watches them progress. "At first, our interns are nervous and unsure," Victor said. "But soon they develop into who God wants them to be as clinicians. It's so rewarding to watch our interns develop in their identity as therapists."
Though Victor spends the majority of his time working with the interns, he still manages to find time to meet with clients—up to fifteen each week. Victor is a licensed marriage and family therapist and has training in Eye Movement Desensitization and Reprocessing (EMDR) therapy, a type of trauma recovery therapy.
In Victor's eyes, working directly with a client is a powerful experience. "It is inspirational to see the courage that our clients have to face really difficult parts of their life and their past," Victor said. "To sit with someone who trusts you with their deepest thoughts, feelings, secrets and stories of trauma is an honor."
It is an honor earned through hard work, dedication and perseverance. Providing therapy is not an easy job, and it is a job that is often undervalued. "A lot of the work we do is unseen. We carry people's secrets. People grow in front of our eyes. We hear devastating stories of trauma and loss. This is powerful work," Victor said. "I feel very unequipped to do this work at times, but God sustains me. I depend on Him to be there with me in each session."
As a licensed therapist with such talent and passion, Victor could easily make more money if he chose to work at a private practice. However, he chooses to work for Outreach because of his belief in the mission. "This is one of the only places that is truly able to fulfill the needs of the underserved," Victor said. "We are very community-minded. We do what private practices can't. We will go to schools, homes, hospitals, prisons – we will do whatever is needed to assist a client."
Victor has proven to do just that. For more than 20 years, he saw a client with significant health issues and a strong faith in God who struggled with depression. Because of her health, she was unable to come to the office. So, Victor went to her. When he visited, they would talk about depression, skills to manage that depression and the importance of faith in this woman's life, all while planting flowers together in her garden or walking around the pond on a beautiful day, counting the frogs.
Near the end of this woman's life, when she was moved into hospice care, Victor visited as often as possible. He would play his Native American flute, something she always loved. Shortly before the end of this woman's life, Victor visited for the last time. "I could tell that she wasn't doing well. She wasn't conscious. But I sat there and prayed for her and played my flute for about an hour nonstop. I played notes and songs, and I played Amazing Grace. Then I kissed her on the forehead and I left," Victor said. "I am fortunate that I was able to be with her on that last day."
Victor was asked to part a part of the funeral service and he graciously accepted, playing Amazing Grace on his flute at the service. "I am really grateful that I could be a part of that, celebrating her life," Victor said.
Victor's dedication to his clients goes above and beyond any expectation of a therapist. Through his compassionate heart and his strong faith, he is a shining light in the lives of so many, and a critical piece of the good work that flows out of Outreach Community Counseling Centers. With a mission to help each and every person reach their highest potential, Outreach, through the counseling centers, chooses to make counseling more accessible to those who need it by never denying services due to a client's inability to pay.
"I am so grateful and in awe of the work that God does. I have a heart of gratitude for this work. He called me to this work, and He is always encouraging me."