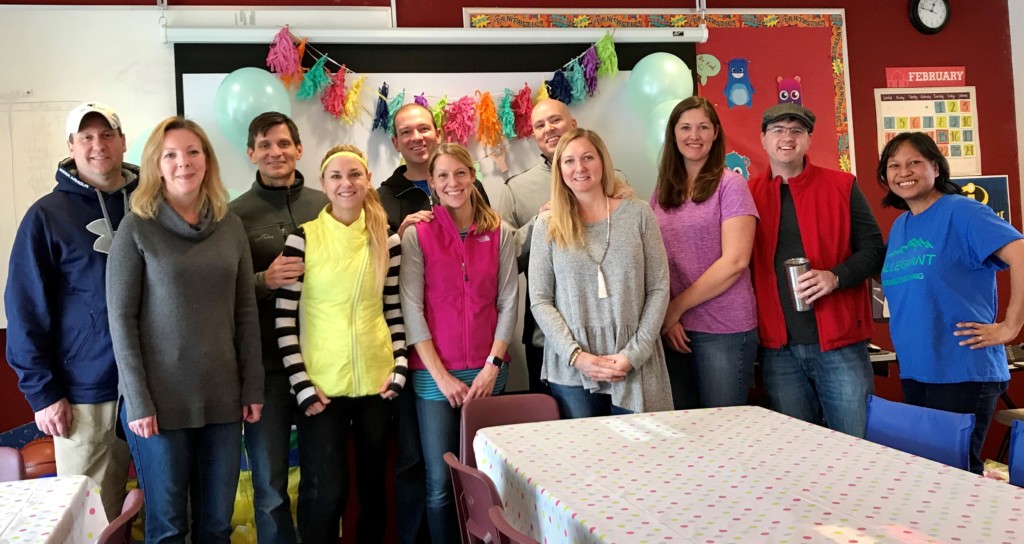 A volunteer group of ten members from Wheaton Bible Church, spearheaded by Heidi Diehl, recently spent a morning at OCC-Villagebrook, providing two hours of service to the classroom and families in the OCC-Villagebrook after-school program. The classroom received a thorough scrubbing; all desks, chairs, bookshelves, and windows were given a mid-winter cleaning.
The group then turned their attention to preparing for the "Sip and See" event planned for later that day by OCC-Villagebrook Program Coordinator Marissa Sabio and Lead Teacher Mary Lundeen. The event, a celebration of the new younger siblings born in the past few months, gathered classroom families together to enjoy refreshments and admire the newest members to the Villagebrook community. "The WBC volunteers transformed the classroom with cheerful decorations and then prepared all the food for the party," says Marissa.
As a bonus, the group prepared a flu kit for each student, a bag of supplies more positively tagged "Spread Love Not Germs."
Marissa summed up the day, "I really enjoyed working with the WBC group; they were interested in learning about the work we do at OCC-Villagebrook and want to be a part of it. We are looking forward to finding more ways for them to serve with us at future events and other opportunities to support the families here."
Outreach Community Center (OCC) – Villagebrook is a satellite site of Outreach Community Center in Carol Stream, offering after-school and summer programs for 2nd-4th grade students as well as case management services and community development opportunities for those living in the Villagebrook Apartments in Carol Stream. All activities of Outreach Community Center – Villagebrook are supported by Full Circle Communities.