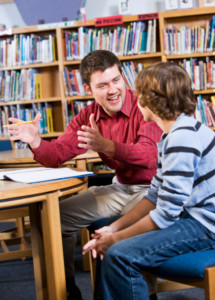 Quest, Warrenville Youth & Family Service's after-school program, recently partnered with the WYFS counseling program interns for a four-session program related to mental health. The program is currently being offered to 7th and 8th graders focusing on measuring one's emotions, coping strategies, relaxation techniques, and living in the present. These sessions will provide students with skills and strategies they can use in everyday situations.
The program was initially introduced by Patrick Fallon, WYFS counseling intern, who wanted to gain some experience in leading groups. Pat launched the group by approaching Quest team members. "As Quest staff, we see a lot of the symptoms of misdirected, poorly handled stress," said Alicia Sremaniak, WYFS program coordinator. "It only seemed natural to partner within our own agency to provide more in-depth services around these issues. We hope to provide some more skills and ways to deal with stress and conflict. We have always wanted to have clinical interns lead a small group, so we jumped at this idea."
While these group sessions are still new, Quest staff members are already seeing positive results. "A lot of our older students took full advantage of learning new skills and while it may have been a tad overwhelming for some, I truly believe all students had a positive experience during these sessions. While being able to identify a direct difference from these sessions is hard, it is nice to be able to reference the sessions when working through issues with students," said Alicia.
"The hope would be to continue a similar session next year with the new clinical interns," said Alicia. "While this depends on their caseloads and interest, Quest will always be open to partnering with the counseling center's team."