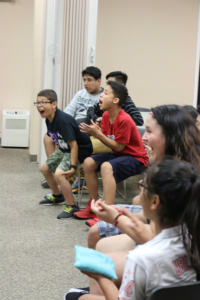 At the end of the school year, Warrenville Youth & Family Services celebrated another wonderful year of their youth development programs—Link Mentoring and the Quest program—with events involving the youth, their families and volunteers. With smiles and laughter filling the room at each event, it was clear that these programs are having a significant positive impact.
Link Mentoring is a program in which youth are paired with caring adult mentors in the community. These pairs meet regularly and through shared activities form strong and supportive friendships.
Daniel Crespo, who has been a mentor for the past two years, explained how he gets together with his mentee to do archery or play video games, all while offering guidance and building a relationship.
"I dropped out of high school, and so I encourage them to do well in school. If they want to go to college, I tell them to go for it, don't back off, don't make the same mistake I did," Crespo said. Crespo added that mentors meet with the youth about once a week, and that "meeting with us keeps them off the streets."
While youth in this program gain invaluable guidance through this program, they also gain a friendship and self-esteem. Crespo's mentee, 15-year-old Jason Gray, expressed his love for this program and his mentor. "I get to have an older friend, and I can see that his life is happier having me in it," Gray said.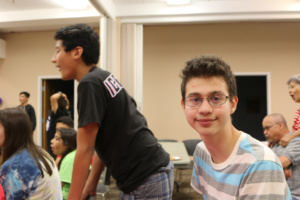 At the end-of-the-year event, as youth and their families sat down for a meal with the mentors, conversation was joyful and hugs were a common sight.
Terri Nystrom, in her second month of mentoring, explained how this caring community has impacted her. "I worked in a corporate setting for a long time, and this is so much more fulfilling," Nystrom said. "I love that I get to form a relationship with the kids and the family."
Many of the youth involved in the mentoring program are also a part of Quest, an after school and summer program for at-risk junior high and early senior high youth. This program includes academic coaching, life skills training, recreation and community service projects, but most importantly, it provides a safe environment for kids to be kids.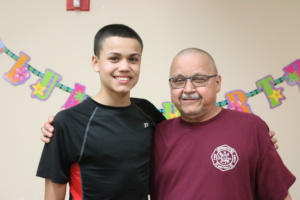 Daniel Parra, a member of Quest, explained his favorite part of the program. "My favorite thing about Quest is Fridays, when they take us places. We went to see the 'Minions' movie!" Parra said.
Bryan Marin added, "It's a lot of fun. I make a lot of friends here."
The end-of-the-year event included a high-energy bean bag tournament, where youth of all ages formed teams and cheered each other on, hoping to win the grand prize: a highly-sought t-shirt.
As Quest launches its all-day summer program, youth will continue to form friendships and participate in their community, while the program's academic coaching helps them remain engaged in their education over the break.